Innoversal Lattice Tablet Shows Off Pixel Qi Display at Computex [Video]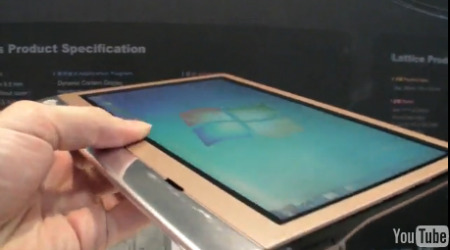 Pixel Qi seemed to be all the rage just months ago, but over the days since, it's all but dropped off the radar. Sure, it's still out there, showing off its amazing ability to display things in direct sunlight, but with the Notion Ink Adam tablet seeing some major delays, it seems that all the fuss over the great screen implementation died with it. But, there's other companies out there using the technology, and at Computex this year, one such company wanted to show off their new tablet.
The Lattice tablet is a 10.1-inch, 1024x600 resolution Pixel Qi beast. It has a 1.66GHz Intel Atom N450 processor under the thin hood, and it also features an SSD with 64GB of storage space. You also get WiFi b/g/n, Bluetooth 3.0, an integrated 3G modem, and probably most interesting of all, you'll have the ability to choose your Operating System. You can either go with Windows, Linux, or even Google Chrome once it becomes available.
And while we're wondering when Google Chrome OS will get launched (something other than "in the Fall," please), we'll have to be a bit more curious as to when this tablet gets released on its own, as there's no word quite yet. There's a video showing it off, though, so if you're interested in picking this bad boy up, you'll have to settle your desire by watching what you can for now.
[via Liliputing]