InFocus offers SP8602 home theater projector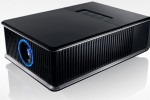 When it comes time to replace my plasma TV I am not going for a larger screen LCD or Plasma, I want a projector. With a projector, I can get a 300-inch image for about the same price, as a nice 50-inch LCD HDTV and I want the largest image I can get. It would be great if people were life size in my shows.
InFocus has announced a new projector that can throw an image on a wall or screen up to 300-inches. The projector is called the SP8602 and it is set to launch in late October at an undisclosed price. The projector has a contrast ratio of 30000:1 and 1300 lumens of brightness.
The projector is bright enough to view in rooms with the lights on says InFocus. Texas Instruments' DLP DarkChip with BrilliantColor is used for image quality. Also featured is lens shift technology along with ceiling detection for help getting the ideal image. The projector also supports image warping for fixing projection surfaces that aren't perfect.