Infocus IN5108 is commercial LCD projector with flexible setup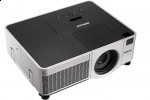 Photographers or professionals look for a commercial-grade projector can now opt for a much-flexible LCD beamer from Infocus. Expanding from its IN5100 series projector, the company announces IN5108, offering a native SXGA (1400x1050) LCD projector with 4000 high lumen output, 1080P videos and lens-shift features.
Unlike DLP, LCD beamer is much flexible when it comes to placement with both vertical and horizontal lens shifts feature. The Infocus IN5108 is no exception, and one step ahead when it comes to setup; the unit offers a precision optical system that includes a full portfolio of optional interchangeable lenses, and flexible aspect ratio from 4:3, 16:9, 5:4 and 16:10 control for 1080p video display and 1600x1200 PC signal input.
Additional features include HDMI input with 1.3 standard, 1000:1 contrast, BNC connection, RS232 and wireless-ready network connectivity, built-in speaker and a full-featured remote with laser and wired control functionality. The Infocus In5108 is available this month with prices starting at $5,499.