Infiniti Qs Inspiration electric sports sedan teases big news coming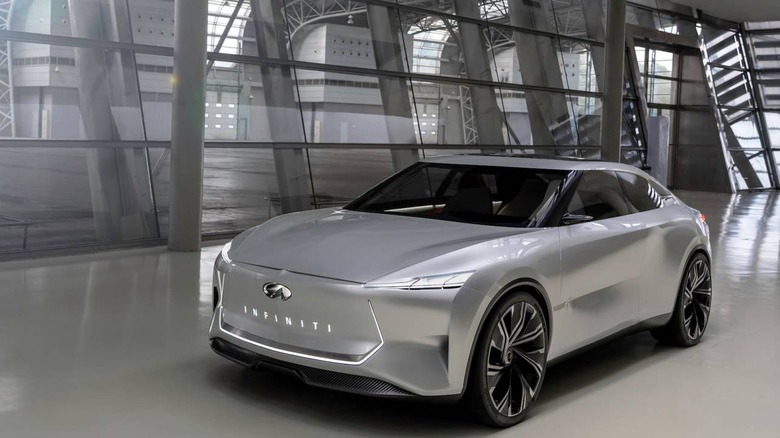 Infiniti keeps dropping heavy-handed hints about its electrified future, and next to the plate is the Infiniti Qs Inspiration. Set to make its debut at the Auto Shanghai 2019 motor show next week, the striking sports sedan concept previews not only Infiniti's vision of what a 21st century performance four-door should look like, but a specific production model too.
The "sports sedan" category has always been a fairly nebulous one. Typically, it means any four door, sedan-style vehicle with more performance and driving engagement than usual: think BMW M5 versus a regular 5 Series.
Infiniti's designers and engineers are taking advantage of that wide definition scope for the Qs Inspiration. It borrows from the market's general edging toward crossovers and SUVs in preference to traditional sedans, with a higher driving position than you'd normally expect. A rethinking of the "three box" sedan shape, too, has taken place.
That the company could do that without sacrificing elements like handling, the control at higher speeds, and generally delivering the feel of a sports car comes down to the benefits of an electric platform. The Qs Inspiration mounts its drivetrain low down, keeping the center of gravity low, and thus adding to the stability of the car. There's electric all-wheel drive (e-AWD) too, taking advantage of the fact that electric motors can be mounted at the front and rear, without the need for mechanical linkage between them.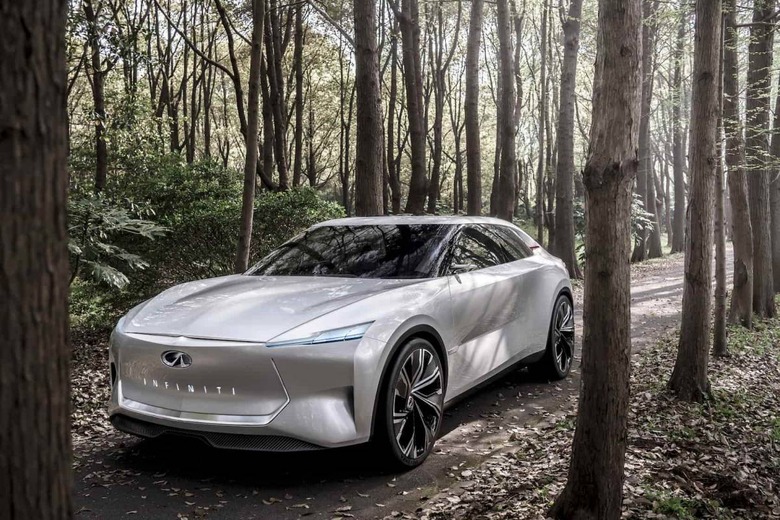 Infiniti says that, though the driver sits in a more elevated position than would be typical for a sedan, the body of the Qs Inspiration hasn't been raised. Again, that's a benefit of the electric packaging.
There's no word on how much power this modern-day vision of the sports sedan might pack, nor equally important things like range and recharging time. Infiniti has been slow to get into EVs in comparison to the rest of the auto industry, though its last few concept cars on the show circuit have all explored electrification. The company plans to deliver that in two forms, with both all-electric and e-POWER hybrid options. Its first all-electric car will arrive in 2021.
While the Infiniti Qs Inspiration won't be built exactly as you see it here – and will see more at it next week, in Shanghai – there's still a production future for the car. The automaker says that the concept car "previews a forthcoming Infiniti production model," presumably something along the lines of the Q50 Red Sport. As for when such a car might arrive in dealerships, Infiniti isn't saying.