Infiniti Project Black S uses F1 energy recovery tech for performance boost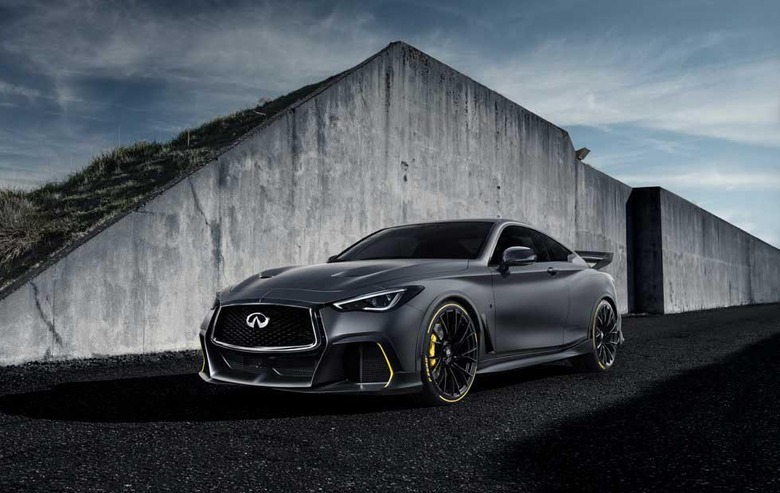 Infiniti has unveiled the sweet Project Black S prototype car. The car was designed with cooperation from the Renault Sport F1 team and the ride uses F1-style energy recovery tech to improve performance. Infiniti has two energy recovery systems in the car and it says the powertrain is a world's first.
The gas engine of the car is the VR30 twin-turbo V6 engine out of the Q60 Red Sport making 400hp. That is combined with two energy harvesting systems called the MGU-H or motor generator unit- heat and the MGU-K or motor generator unit- kinetic. The MGU-H develops electricity under acceleration and each turbo has one unit fitted.
The MGU-K generates electricity under braking and applies that energy directly to the rear axle to improve performance when needed. Some of the energy captured is used to spool the turbos faster to prevent lag. Infiniti says that harvesting energy under acceleration and braking has the potential for significantly increasing performance.
Total power with the electricity added in is 563hp. Energy is stored in a 4.4 kWh lithium-ion battery pack located in the rear compartment. The Project Black S edition is the first car from the brand to use full drive-by-wire controls. That includes the accelerator, braking, and steering.
Infiniti says that future development work moving into 2019 will focus on track testing and tuning. Eventually, the tech created for this prototype will make its way into Infiniti road cars. There is no indication on when that tech might land.
SOURCE: Infiniti