Infiniti JX Concept Unveiled to the world at Pebble Beach Concours d'Elegance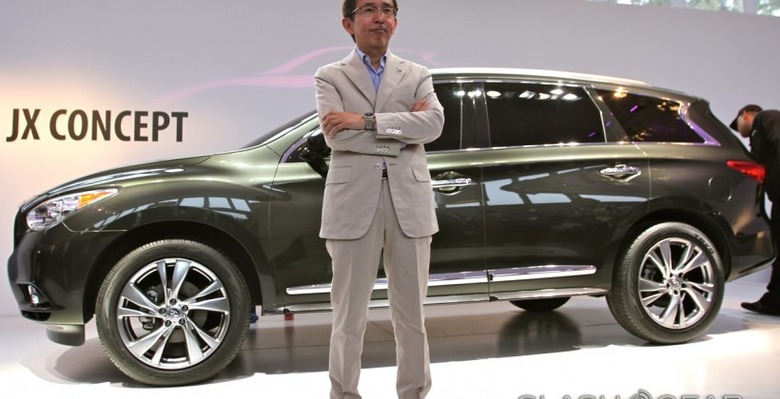 Infiniti has revealed its latest luxury crossover, the Infiniti JX Concept, a preview of what we can expect from the production model likely to hit showrooms in 2012. Capable of cosseting up to seven people across three rows of leather-clad seating, the JX Concept pulls together distinctive design touches like its crescent-cut D-pillar and snout-like grille with luxury features such as a 14-speaker Bose Studio Surround audio system.
In fact, the JX Concept is arguably more impressive in terms of what Infiniti has done inside than out. The second row of seats both tilts and slides for access to the last row – itself promising adult-sized accommodation, though taller people should probably claim a chair closer to the front – meaning you can leave a child seat strapped into the middle and not have to remove it to climb in. A V6 engine and a choice of all-wheel or front-wheel drive will be paired with a CVT (continuous variable transmission) that mimics a stepped transmission for sport-tuned performance but with fuel-efficiency too.
As well as the Bose audio, there's Infinit's Connection Telematics system that can pull over your calendar and automatically offer GPS navigation to your next appointment, along with the Infiniti Personal Assistant concierge service. 24-hour access to the service will be included with every 2012 model year car.
Safety features include Blind Spot Intervention and Backup Collision Intervention; Infiniti weren't too keen on the idea of SlashGear reversing at high speed into objects, but the system did warn us when we were at risk of backing over things out of sight of the driver. Push it further, and it will even put on the brakes for you.
Crossover styling can be an acquired taste, though in the metal the JX Concept is less brutal than the promo shots might suggest. Infiniti's surface detailing helps break up long expanses of metal and catches the light nicely, and though there's no shortage of chrome trim there's still less than we've seen on some rivals. Inside it's a sea of leather and wood, still light thanks to all the glass in the roof, and with a huge display for the ICE and PND functionality.
More details in our gallery and videos (later tonight)!