Infiniti EMERG-E First Drive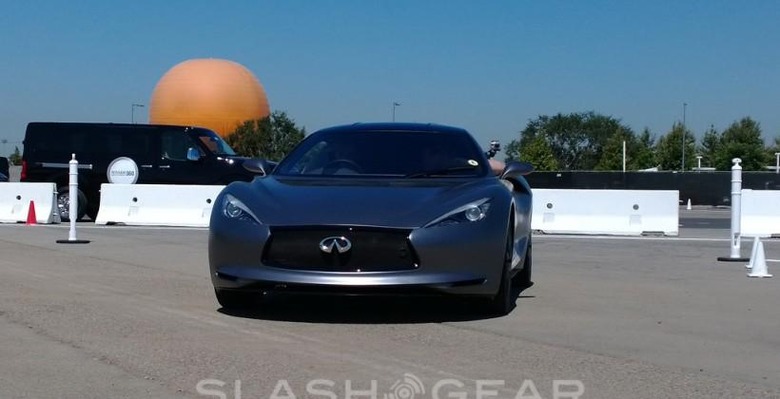 As environmentally-friendly concepts go, Nissan's Infiniti EMERG-E is definitely more in the BMW i8 camp of performance first, rather than the meek eco-boxes that can give EVs a bad name, and we've been lucky enough to grab a test drive of one of the two working cars in existence while at Nissan 360. While most concepts look great but can often manage no more than a sluggish roll from delivery trailer to car show stand, the 402HP EMERG-E isn't short on either power or poise. Read on for some first impressions.
Nissan hasn't any plans to green-light production of the EMERG-E, despite no shortage of wallets instantly falling open when the company pulled the wraps off at the 2012 Geneva Motor Show. Instead, the car is being used as a test bed for aerodynamics research, not to mention investigating the practicalities of performance electric and hybrid powertrains.
That means the Infiniti-branded coupé isn't slow, and it doesn't struggle in the corners, either. Two electric motors take a rear wheel apiece, together managing 402 HP and a huge 738 lb-ft of torque. 0-60mph is in the region of four seconds (or 0 to the top speed of 130mph in 30 seconds), though Nissan says total electric-only range is limited to around 30 miles. After that, there's a compact 1.2-liter, three-cylinder gas engine which kicks in, putting its mere 47HP to work recharging the low-slung Li-Ion battery pack. On a full charge and a full tank of gas, you'll get 300 miles out of the car, Infiniti says, though it's also possible to plug the EMERG-E into a power point and recharge it that way.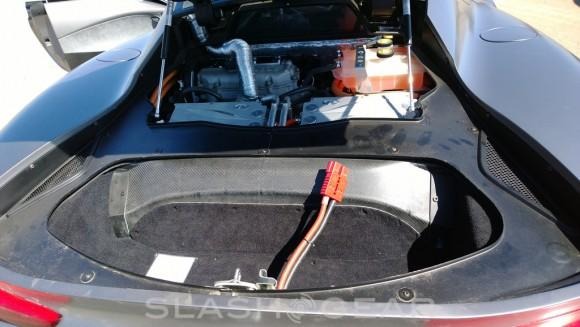 While Nissan may be a Japanese company, and Infiniti a brand best known in North America, the EMERG-E actually owes much of its abilities to UK companies like Lotus. Under the carbon fiber bodywork there's the platform from the Lotus Evora 2+2, while the electric motors and range-extending gas engine are built off of what Lotus used on its own 414E concept. The UK-based Nissan Europe tech center that took the lead in developing the coupé also worked with Jaguar-Land Rover, cherry-picking local battery, motor, and composite-panel specialists as it explored the best way to piece together a futuristic supercar.
The result is incredible performance from a car that produces just 55 g/km of CO2. Just as with most EVs, the first thing you notice is the surge of power from the very start, the EMERG-E leaping forward aggressively as soon as you stab the accelerator in the well-finished cabin. The Lotus-made three-cylinder contributes a steady buzz that's not particularly evocative – it runs at a fixed 3,500 rpm when charging the batteries – but otherwise there's only the whine of the electric motors and the rush of air over the heavily-sculpted wings back to cool the battery radiators as the Infiniti clings to corners impressively.
Infiniti EMERG-E first drive:
The carbon-fiber means weight is low for a concept, and grip from the big, eye-catching wheels is solid, though Nissan wasn't keen on us pushing too much and potentially breaking one of the two priceless prototypes in existence. Still, even with a little restraint, we had no problem seeing why electric power has plenty of appeal in performance applications. Dual-clutch sequential gearboxes now commonly used in gas-powered cars from Ferrari and Porsche are fast, certainly, but the electric drive EMERG-E has absolutely no interruption from gear changes.
If we had a complaint it would be the brakes, which like most EVs work with a regenerative system that pushes some charge back into the batteries as you shed speed. Unfortunately, on the EMERG-E that comes with a feeling of lag, there being a delay before things actually slow down appreciably.
Nonetheless, even with a little carbon-fiber panel squeak, it's not hard to see how easily the EMERG-E could be mistaken for a production car. Sadly Nissan has no intention to roll out such a model, though it will be launching a high-end luxury car using an EV system but based on 2012's LE Concept sometime in 2014.
Don't miss our other Nissan 360 coverage, including an interview with Nissan North America R&D chief Carla Bailo on the future of the company's self-driving cars.