Induction Dynamics ID1.15 and S1.8 Super Loudspeakers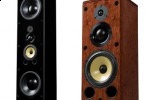 Induction Dynamics have unveiled two new speaker models in their "Super Loudspeaker" range, the ID1.15 and the S1.8.  ID1.15 – shown here in black – stands 62.5-inches high and features a 1.125-inch high-power soft dome tweeter, a 3-inch soft dome midrange, an 8-inch woofer with Kevlar cone, and dual 15-inch subwoofers with laminated cones.
The ID1.15 is a smaller version of the company's existing ID1.18 speaker; as well as being smaller it also has a switchable four-way speaker mode crossover, for use both in home theater and sound room applications.  Induction Dynamics have also given it patented non-reflective grille frames, which eliminate frequency response distortion caused by ordinary grilles' near-field reflections.
As for the S1.8 Super 8 3-Way loudspeaker, that measures a less intimidating 25-inches high and offers 8-inch woofers and a special high power tweeter for left, right, side or rear channel home theater use.  Despite the reduced size, it has the same high power drivers match the drivers used elsewhere in the Super Loudspeaker series.
Each speaker is available as standard in rosewood gloss, black satin and black gloss, or in any finish specified by the buyer.  There are also 63 different speaker grille finishes available.  Both new speakers are available now; pricing is unconfirmed.
Press Release:
Induction Dynamics® Introduces ID1.15, S1.8 Loudspeakers

New high-power loudspeakers provide exceptional sound, additional options for consumers.

Las Vegas, NV – Induction Dynamics®, an Overland Park, Kansas based audio company, has introduced the ID1.15 and S1.8 loudspeakers. The two products complete the company's "Super Loudspeaker" line, which also includes the ID1.18 tower loudspeakers and the C1.8 center loudspeaker. All products in the line are on display for CES at the Venetian, suite 30-134.

The ID1.15 measures 62.5" in height and incorporates a 1.125" high-power soft dome tweeter, a 3" soft dome midrange, an 8" woofer with Kevlar cone, and dual 15" subwoofers with laminated cones. As with the larger ID1.18, the ID1.15 provides very high power handling down to the lowest audible frequencies as well as exceptional sound quality.

"We developed the ID1.15 based on customer requests for the great performance of the ID1.18 in a smaller form factor," said Chris Combest, CEO of MSE Audio Group. In addition to its smaller size, the ID1.15 has a rear-panel switch that allows the user to switch the crossover in or out of a four-way speaker mode, enabling its use both in home theater and sound room applications. "The ID1.15's patented S4X crossover with coupled coils provides control over more variables that can be used to optimize not only frequency response, but also phase relationships," Combest noted. "This makes possible the unique Induction Dynamics `Wide Angle' phase alignment, which provides a broader flat frequency response in the crossover region along the vertical axis of the speakers." Another patented feature in the ID1.15 is Induction Dynamics' non-reflective grille frames, which eliminate frequency response distortion caused by ordinary grilles' near-field reflections.

The S1.8 Super 8 3-Way loudspeaker, measuring 25" high, provides 8" woofers and a special high power tweeter for left, right, side or rear channel home theater uses. Its high power drivers match the drivers used in the other products in the Super Loudspeaker series, ensuring optimal performance throughout the entire system. An optional stand is available for the S1.8.

Also available as a complement to the series is the A2 600 Watt subwoofer amplifier with patented excursion-limiter technology.

ID loudspeakers are available in standard rosewood gloss, black satin and black gloss and can also be customized with other woods and finishes to any buyer's wish. Grilles are available in 63 standard color options. Accessories include chrome finished, adjustable carpet spikes.

About Induction Dynamics

Induction Dynamics was founded in 1995 and is part of MSE Audio Group. Induction Dynamics' headquarters, manufacturing and distribution facilities are located in Overland Park, Kansas. Induction Dynamics designs and builds high-end loudspeakers with only the most select components and materials and utilizes numerous unique and proven technologies including exclusive, patented S4X™ driver-control technology, Wide Angle™ phase alignment, and patented grille frames, fastener designs, corner mounts, stud grabber in-wall systems, and excursion-limiter technology. Induction Dynamics' extensive line of high-end loudspeakers and the patented SolidDrive® sound transducer are available through a nationwide network of authorized dealers. www.inductiondynamics.com. (866) 663-9770