Incase Power Slider battery case for iPhone 3G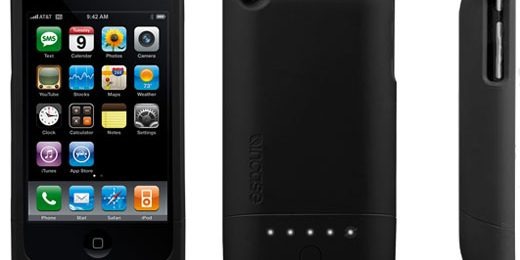 If our review of the Mophie Juice Pack battery for the iPhone 3G appeals, but you know you're just too clumsy to cope without a more comprehensive case for your precious Apple cellphone, Incase may have the option for you.  The Incase Power Slider takes the company's standard Slider case and adds a 1,330mAh rechargeable battery; like the Juice Pack this can recharge your iPhone 3G's battery, but unlike the Mophie product the Incase sleeve covers all the edges of the handset.
That makes for a better-protected phone, plus one that will work for longer.  Incase are claiming up to 330hrs extra standby time, up to 26hrs audio playback, up to 5hrs 3G talktime (or double that in 2G talktime), 7hrs video or up to 5hrs 3G web browsing (or 6hrs connecting via WiFi).  Those figures are a little less than Mophie claim for their Juice Pack.  Five LEDs indicate charge status, while there's an included sync cable which lets you hook your iPhone 3
The Incase Power Slider will be available from November 28th, priced at around $100.  That's the same as the Juice Pack, so at the end of the day it seems to come down to slightly longer battery life versus improved physical protection.
[via BoingBoing Gadgets]