INCA motorized pop-out TV mount
Mounting your LCD TV on the wall is practically obligatory if you want people to be impressed by just how skinny it is, but if you're looking for that extra glitz-factor then INCA's motorized arm could be just the ticket.  The imaginatively-named 900810-5A-WPS slots into the wall cavity and can support a display up to 100lbs in weight.  It comes complete with a two-button remote that can bring the screen out to any position, as well as automatically return it flush to the wall.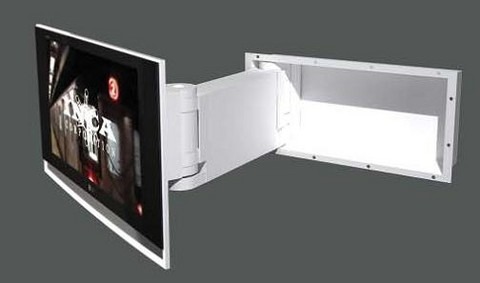 Inside the arm is an integrated cable-management system, so your HDMI doesn't get crushed by a particularly vigorous screen pan.  Constructed from aluminium, it has a standard VESA mounting plate and a wired remote.  INCA also sell picture-frame surrounds, so that your friends can be surprised as the Rembrandt leaps out at them and switches over to American Idol.
The INCA motorized TV mount is available now, price on application.  You can find more information here [pdf link].
[via Gear Live]