Google has re-imagined email. Today, the company is introducing Inbox, and app that takes email to a different level, and will have some interesting features for power users. Inbox is a bit like Google Now, Keep, and email rolled into one. You can set reminders, and even teach the app to create bundles of information — like bills and receipts (a financial bundle), or flights and train tickets (a travel bundle!). If you're interested in giving it a shot, we'll tell you how to get an invite below.

Inbox isn't Gmail, which is something Google subtly points out in the announcement. It's from the Gmail team, but isn't a new Gmail app. Inbox is a new way to use email, but doesn't really re-invent the wheel.
Google's aim is to fix our dated email system by making it contextual, something many have tried to do in their own way. The aforementioned Bundles feature lets you stay organized, and builds on Gmail's tab-based interface we see now.
Inbox also highlights info in an email. The Highlights feature also pulls data from the web automatically, so if someone sent you a link, Inbox might simply load that in the email itself without you having to visit the link. You'd also get real-time info on things like flights or package deliveries, all by using Inbox, and revisiting the original email.
There are also reminders, where you can set up a reminder to pick something or someone up (or whatever you like). A feature called Assist builds on those reminders, feeding you info about the place you may be visiting. If you reminded yourself to pick up a package at the UPS store, for instance, Inbox might pull your tracking number from the email and stick it in the reminder.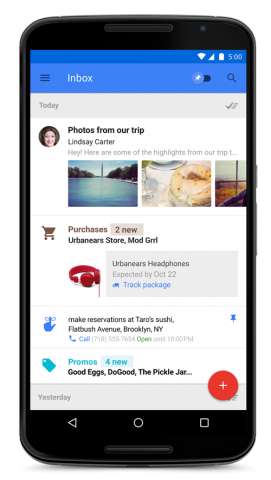 Inbox also steps on the toes of other Google services, like Keep or Now. There's a lot of moving parts, and the more you use it, the better Inbox becomes at learning your wants and needs.
The new email service is invite-only right now, and Google isn't saying if it will be made available outside of Android (Play Store link). If you want to try it out, send an email to inbox@google.com. Invites will roll out incrementally, so be patient.
Update: Here's the iTunes link
Source: Google