IMOVIO iKIT is like a PDA from the past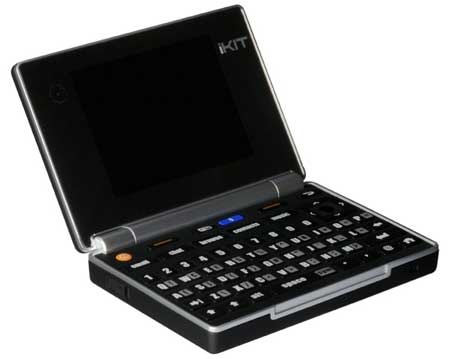 Remember when PDAs were really cool? Now that PDA functions have been incorporated into smartphones and netbooks, their presence has ceased to be as relevant. But apparently IMOVIO doesn't think so. 
The IMOVIO iKIT is a handheld device that runs on Linux and sports smartphone-like specs. It kind of looks like a bulkier Nintendo DS or something, but the iKIT features a 2.8-inch screen with 320 x 240 resolution, 128MB of ROM, 64MB RAM, a 312MHz processor and the Opera mini browser.
It also supports microSD, has Bluetooth 2.0, a QWERTY keyboard and an optional 0.3 megapixel webcam. The problem, however, is that is only has USB 1.1, no headphone jack and limited battery life. A release date is unknown, though the iKIT is expected to retail for around $172.
[via Gearlog]