Immersive Nintendo attractions are coming to three Universal theme parks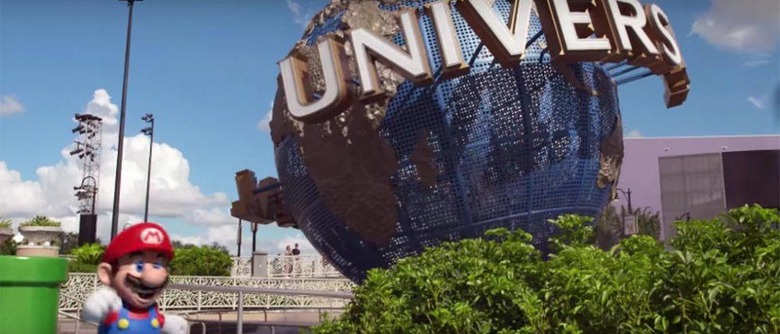 Nintendo attractions are heading to the Universal theme parks in Hollywood, Orlando, and Japan's Osaka, the company has announced. Plans to launch Nintendo attractions at Universal resorts were announced early last year, and while we still have some waiting before they go live, we now have more info about what to expect. Among other things, Nintendo says these attractions will target all age groups and will be both 'immersive and interactive.'
Nintendo detailed the news today in a new video featuring Universal Creative Mark Woodbury and Nintendo's Shigeru Miyamoto. There aren't as many details as we'd like, but more than we've received so far — not to mention, you get a glimpse of iconic props in the background, perhaps hinting what these attractions will look like.
Says Nintendo, "All of the adventure, fun and whimsy you experience through a screen will now be all around you — in breathtakingly authentic ways." The attractions will feature heroes, villains, and 'gameplay' from Nintendo video game franchises. Mario, of course, gets center stage in the video below.
The company goes on to say these attractions will make visitors 'feel as if they are playing inside their favorite games,' but of course it'll be a real-life experience, not a screen-based one. As well, Nintendo promises that people across all age groups will find something to enjoy; the same goes for visitors who are less experienced with video games.
Nintendo didn't go into any sort of specific details about these attractions. However, the company promised these areas will be completely authentic and 'highly themed,' and that within these themed areas we'll find restaurants, shops, and other 'attractions.'
It's likely that these attractions will be different in each park, and as such we'll get the specific attraction details from the parks themselves. We don't know which will launch its Nintendo area first, but the company teases that the first announcement will happen soon.