Immersis wants to beat Xbox to IllumiRoom VR gaming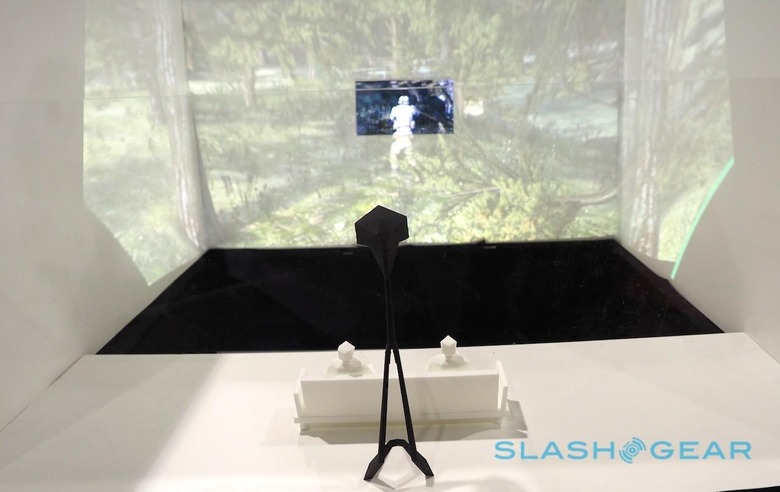 "This is just a model, the real thing will be much bigger," Immersis' enthusiastic booth team helpfully points out about its diorama, a tiny stem of 3D print-out to represent the immersive projector tech it's hoping will score it a place in living rooms. They're not kidding around, either: assuming the Kickstarter due to open later this year gets traction, the final Immersis VR projector will tower over the back of your couch, spraying the walls around your TV with an expanded gaming experience. It's not the first time we've seen attempts to break out of the TV bezel, but Immersis' approach is particularly ambitious.
The angular head, resembling something from War of the Worlds, will contain a 1920 x 1080 projector good for 3,000 lumens and a 100,000:1 contrast ratio. What's unusual is the lens its been paired with, fisheye optics that spread the picture 180-degrees.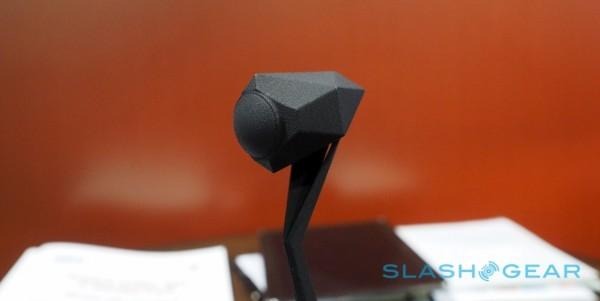 As a result, Immersis isn't intended to replace your big-screen TV, but instead augment it. In with the projector there are various 3D scanning tools to effectively map your room and the objects in it – the cabinet the TV sits on, perhaps, or the sideboard alongside it – and then take those into account by morphing the game graphics so that they still look right even when overlaid onto a non-flat surface.
The company tells me that Immersis is compatible with any 3D game engine, along with any video format and hardware. Calibration and setup are said to be easy – connectivity includes HDMI and DVI – and there's an SDK for game developers so they can more readily add Immersis support to their titles.
There'll need to be a PC or Mac involved, however, since it's the company's software which does the heavy lifting matching up what's shown on the TV and what the projector displays. It's unclear if that means PC/Mac games only at least initially, or if Xbox One or PS4 could be used as the gaming source.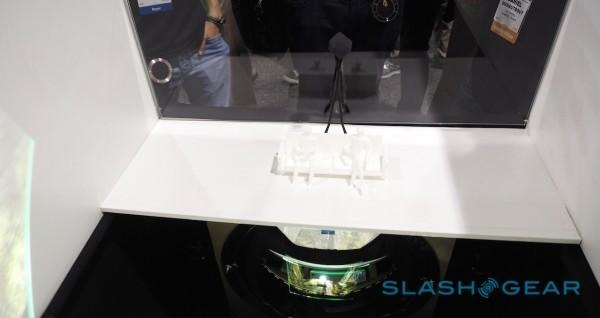 If it's all reminding you of Microsoft's IllumiRoom, you're not alone. Microsoft's proof-of-concept didn't make it to the Xbox One, as some had hoped it might, but the Kinect and projector powered immersive entertainment system shares quite a few elements with Immersis.
Both try to deepen the experience of gameplay by spreading the graphics around the player, with the TV providing the high-resolution core, and the projector responsible for filling your peripheral vision.
It's the complete opposite approach to something like Oculus Rift; where VR headsets undoubtedly make for a more involving experience for the gamer themselves, they're relatively solitary as a result of the form-factor. Immersis is pushing the social aspect – the same degree of experience whether you're player or spectator – as a key advantage of its system.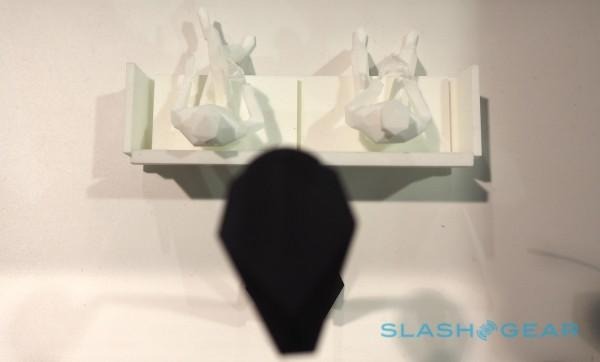 Nonetheless, it's early days. Immersis is talking about a roughly $2,500 price tag for the projector – which does, at least, bow down on its articulated stand to make some attempt at easier transportation and storage – and then there's gaining game developer support. As always with this sort of peripheral, there's a chicken-and-egg issue around that: developers want sufficient units in the wild to make adoption worth their time, but without compatible games it's hard to lure in gamers.
Immersis' 3D printed people sitting on their 3D printed sofa seemed engaged enough. We'll have to wait until later in the year to see if their real-world counterparts are similarly convinced.
Update: Immersis' Kickstarter project is live, with the startup looking for $100,000 before February 17th. Pledges of $1,000+ get on the hardware tiers, with deliveries expected – assuming everything goes to plan – from October this year.
MORE Immersis VR; Kickstarter