iMep3 Is Everything All Wrapped Up Into One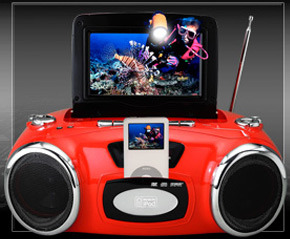 I picture the makers of the iMep3 singing some warped version of the hokey pokey where you put the TV in and don't leave the DVD player out, consolidation is what it's all about. Maybe I have too much time on my hands. In any case the iMep3 is your basic all in one.
It's an iPod, DVD player, TV and Boombox. It has a 7" LCD display and comes with memory and USB ports, it has a built in radio too but I can't imagine it'll get much use with all the other gadgets it possesses.
You can buy yourself an iMep3 for $300 when it comes back in stock. I'm wondering if it wouldn't be cheaper just to buy everything separate.
[via Chip Chick]