iMainGo 2 case for iPod, iPhone and more has its own speaker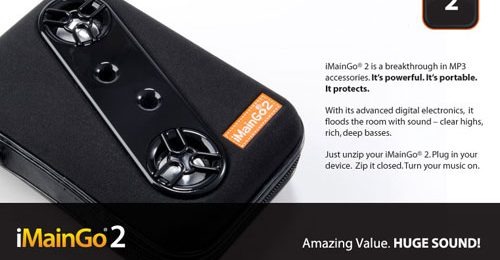 Most of us want a case for our smartphones or music players to keep them safe when we are carrying them with us. The thing with most cases is that you have to have a separate speaker if you want to listen to music on the go without headphones.
A new case called the iMainGo 2 has debuted that is a case and a portable speaker dock all in one. The device measures in at 5.7" x 3.8" x 2.4" and weighs 9 ounces. It has a pair of 2.5W speakers on one side and a clear sleeve on the other that lets you see and control your device. The sleeve doesn't keep the touchscreen functions of your device from working.
Power for the speakers comes from four AAA batteries good for up to 30 hours of play per set. The speaker set has a tuned bass port and it will connect to any 3.5mm headphone jack. The case is made from neoprene that is waterproof. Any device with a 3.5mm headphone jack will work with the case. You can order one now for about $40.