iMac To Wirelessly Charge iPods, iPhones, and iPads?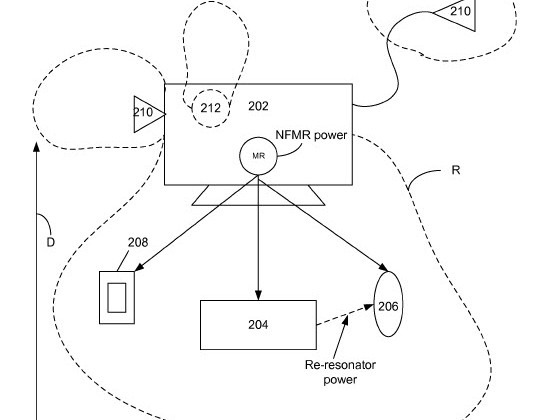 Apple's iMac all-in-one computer already helps reduce a lot of clutter. In the near future, it may also help reduce the number of charging cables you have lying around. A recently dug up patent application shows that Apple may be working on integrated wireless charging that will allow your iMac or Macbook Pro to wirelessly charge your other Apple devices.
Apple's patent application describes the system as "Wireless power utilization in a local computing environment." It is based on the "mid range wireless power transfer physics" and makes use of wireless near field magnetic resonance (NFMR) power transmission to power devices up to 1 meter distant.
The NFMR power supply will be integrated into iMacs and Macbook Pros and will create a 1-meter zone in which peripherals such as mice, keyboards, iPods, iPhones, and iPads can be wirelessly charged.
However, this is just a patent application right now and there's no knowing when such a technology could be realized in Apple's product line. But to check out what's coming right now for Apple, make sure to keep it here at SlashGear's livecast for Apple's WWDC 2011 keynote today.