iMac hamster cage lands on eBay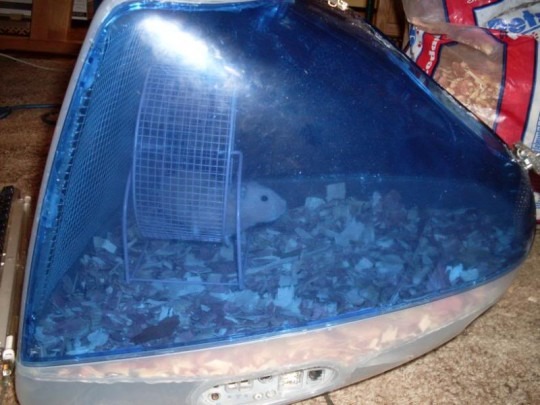 If, like me, you've always had a sneaking suspicion that computers are powered by tiny animals rather than the "electricity" government conspiracy, then this DIY iMac hamster cage might appeal.  Up for sale on eBay – for a whopping $350 buy-it-now, no less – it's an original blue iMac with the guts removed and mesh walls inserted.
"Made from the shell of a blue iMac with all the guts removed. Comes with the keyboard and mouse shown, no idea if they work or not. Everything is safe, I put my own hamster in there for a while just to get a good laugh and sense of accomplishment. Nothing toxic was used in constructing of the cage, nothing is poking out. It is more for ascetic [sic] purposes then an actual cage. HOWEVER the best rodent suited for the cage would be a hamster due to the fact that they do not chew as veraciously as mice, gerbils, and rats" eBay listing description
The seller – who has obviously had his fair share of rodent experience, given the knowledgeable rat warnings – probably means "aesthetic" rather than "ascetic", unless the cage really is intended to teach your hamster about self-discipline and avoiding self-indulgement.  Actually, thinking about it, given the work conditions supposedly inflicted on Apple employees by their overlord Steve Jobs, perhaps ascetic is more appropriate.
A hinged top-flap (for easy hamster upgrades and maintenance) and basic grilled floor finish things off.  I'm not sure this is worth $350, but if your hamster is an Apple lover (and I've seen them eat all sorts, so who knows) then this could be their ideal Christmas gift.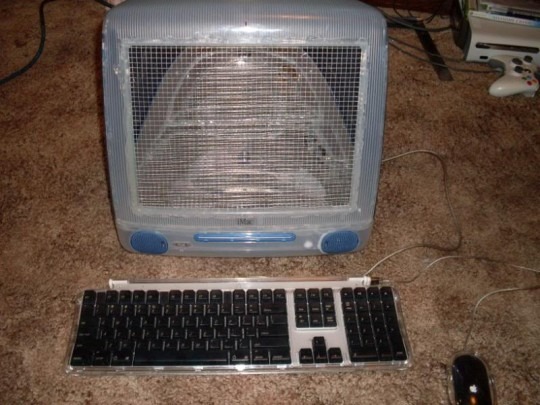 [via Telegraph]