iMac Core i5 3.10GHz hands-on (mid 2011)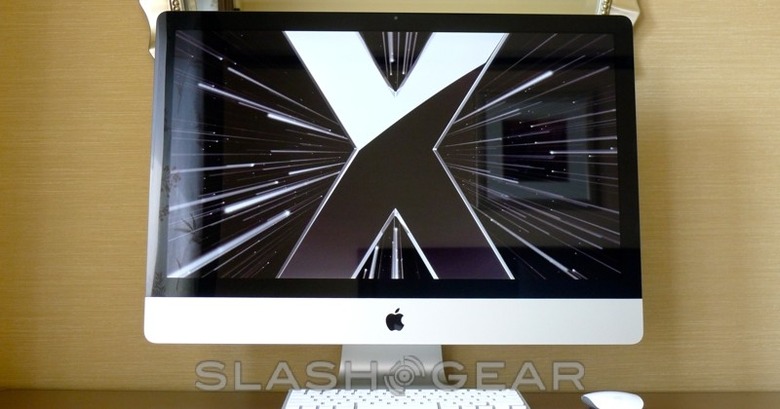 Apple's 2011 iMac refresh brought not only the Intel Sandy Bridge Core i5 and i7 processors we were expecting, but a pair of Thunderbolt ports (on the 27-inch model, at least; the 21.5-inch iMac gets a single Thunderbolt), bringing the all-in-one in line with the most recent MacBook Pro update. Inside the familiar aluminum chassis is the fastest iMac around; read on for our first-impressions.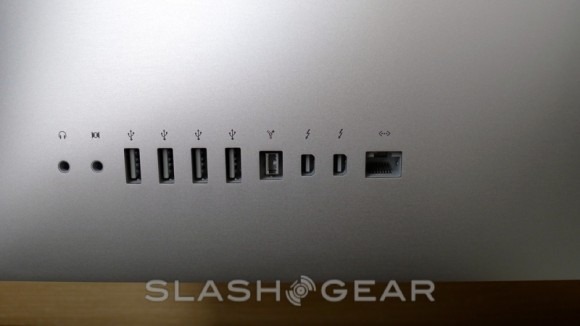 That opens the door to a vast work area, though we'll have to wait to test that until we're back at the office. Interestingly, there's also Target Display Mode support – the ability to use the iMac as a display, not a computer in its own right – though updated to suit Apple's latest ecosystem. Plug in a Thunderbolt-equipped MacBook Pro and you can use the iMac as a second monitor for it; unfortunately the same doesn't hold true for a previous-gen MacBook Pro, the Mini DisplayPort of which won't work.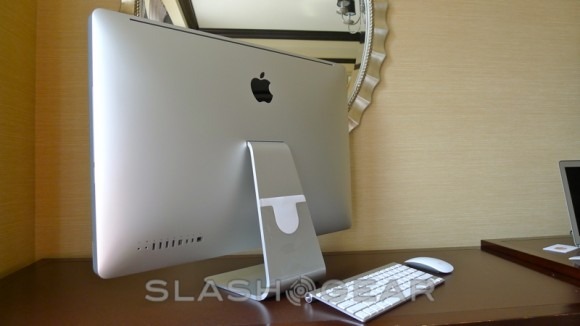 Still, using a 27-inch quad-core beast as a dumb display seems frankly wasteful, especially when on its own its such a potent desktop. We've seen zero lag in loading apps and OS X – along with the iLife suite – runs like a dream. Would we have liked to have seen a Blu-ray drive and maybe HDMI? Of course, but that's not on Apple's roadmap. What you do get, Apple told us, is performance on a par with a Mac Pro, along with a FaceTime HD camera for 720p video calls – it's worth noting that only the most recent MacBook Pro has FaceTime HD camera support, though, not the iPhone 4, iPad 2 or iPod touch.
Thunderbolt peripherals are still in short supply commercially, but when we met with Apple for an iMac briefing in New York the company showed us some pre-release hardware so as to get a better idea of what the updated desktop is capable of. Last time, at the MacBook Pro launch, Apple demonstrated four uncompressed HD videos being pushed through a single Thunderbolt connection; this time, Apple was pushing six uncompressed HD videos through a quad-SSD Pegasus Thunderbolt DAS.
A 4k2k video streamed at 505-600MB/s, and Apple also had footage shot on a RED camera that exceeded 750MB/s, with playback smooth and glitch-free. The iMac's new AMD Radeon graphics options also give the computer a new burst of performance; Apple showed us how the iMac could flip through dozens of 30-megapixel images with no lag, editing and zooming as they went, while a Portal 2 demo ran at 98.8 frames per second. The same title on the last-gen iMac would only have managed around 80-percent of that, we were told.
Moving forward, the displays of all iMacs will be individually calibrated at the manufacturer, for improved on-screen quality. In fact, if you're comparing Apples to Apples – forgive the pun – the those moving from the entry-level last-gen iMac to the new entry-level machine are likely to see the biggest differences, thanks to that GPU upgrade.
Still, that's not to say there isn't an improvement to be had when you consider quad-core across the board. We'll be putting the iMac through various benchmark tests for the full SlashGear review, so until then enjoy the live gallery!