iMac 2017 release date: Here's what's inside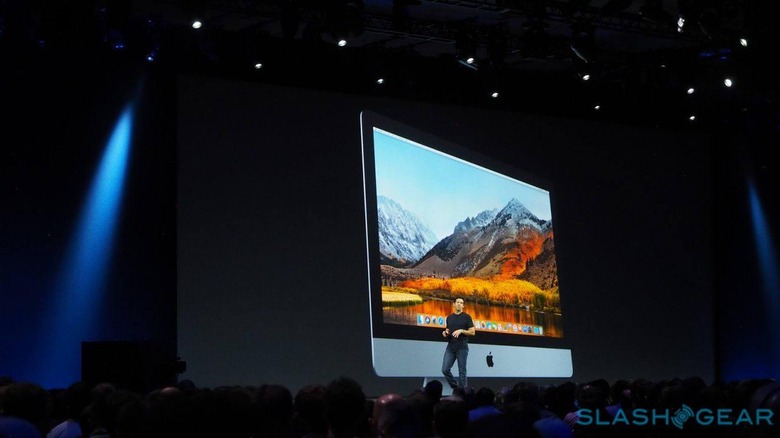 As expected, Apple used part of today's WWDC 2017 keynote to announce new hardware, but it revealed new machines that weren't exactly expected. Though many rumors ahead of this event told us to expect new iPads and MacBooks, the first refresh Apple announced today is coming to its 21.5-inch and 27-inch iMacs. That comes as something of a surprise, but we don't think the iMac faithful will mind much.
Kicking things off, Apple said that these new machines have the best Mac displays ever. Some features Apple touched on include support for 500 nits, making it them 43% brighter than previous displays, 10-bit dithering, and support for up to one billion colors. That's pretty impressive all its own, but the displays aren't the only aspect getting an update today.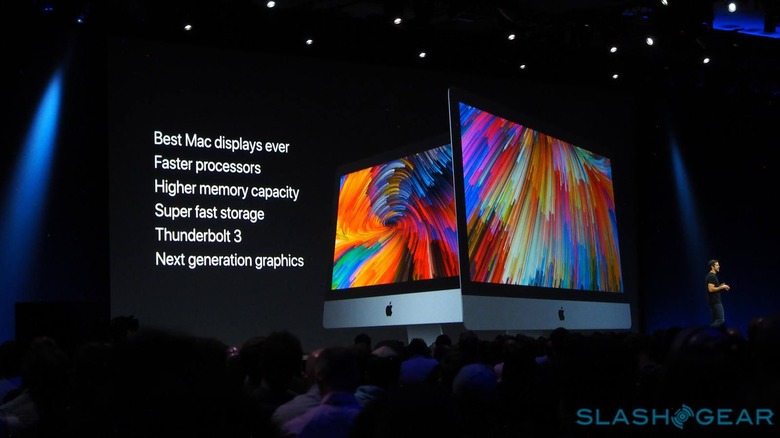 These new iMacs will feature seventh-gen Kaby Lake processors from Intel. On 21.5-inch models, those processors will be working in tandem with up to 32GB of RAM on 21.5-inch models and up to 64GB of RAM on 27-inch models. These new all-in-ones also offer up to 2TB of SSD storage, with Fusion Drives now standard on all 27-inch models. Finally, we can look forward to two new Thunderbolt 3 ports on the backside of the device.
There are three new models of iMacs in all. The base 21.5-inch model will utilize Intel Iris Plus Graphics 640, while the mid-range 21.5-inch model will feature a Retina 4K display and Radeon Pro 555 and 560 discrete graphics. Finally, we come to the top of the line iMac introduced today, the 27-inch model that comes with a Retina 5K display and your choice of a Radeon Pro 570, 575, or 580.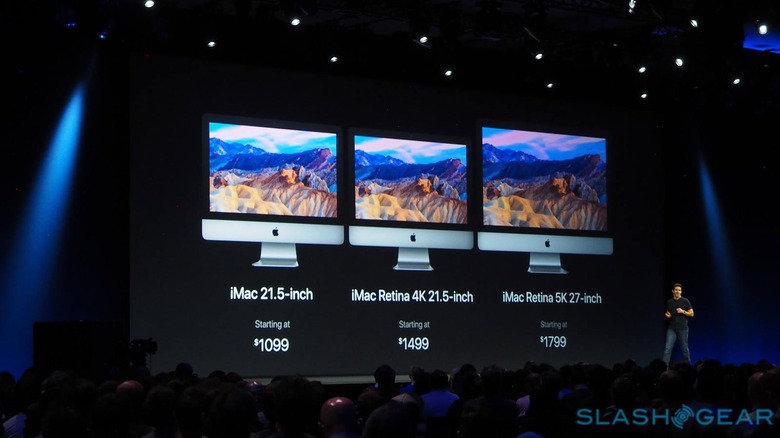 Of course, these machines will support VR content and development, with Apple diving into a Star Wars-themed demo for us. It sounds like Apple has put together some fairly solid all-in-ones here, but the big question now is "how much will they cost?" The base 21.5-inch model will set you back $1,099, the 4K 21.5-inch model costs $1,499, and finally, the 5K 27-inch model will cost a hefty $1,799. They're available today too, so have at it, and be sure to check out our WWDC 2017 hub for more from the show!