ILVE VELA Rangehood is for the serious cook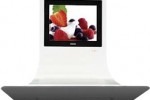 I love kitchen gizmos because anything that can make cooking easier, I'm all for it. But the ILVE VELA rangehood brings a whole new level of technology into the kitchen.
This new device is a rangehood outfitted with a 10-inch LCD monitor. That way you can look at a screen right above your stove. Talk about convenient. And with it up high like that, it's out of the way of splatter and food particles, unlike screens that sit on counters.
The LCD screen can be controlled by means of a wireless remote and you will need to hook up cable to it. There are AV inputs as well, so a DVD player hook up is a possibility, if you find it necessary to have a kitchen DVD player. No word on availability or price yet, unfortunately.
[via Coolest Gadgets]