iLuv iSM524 is the first audio dock for Samsung Galaxy Tablets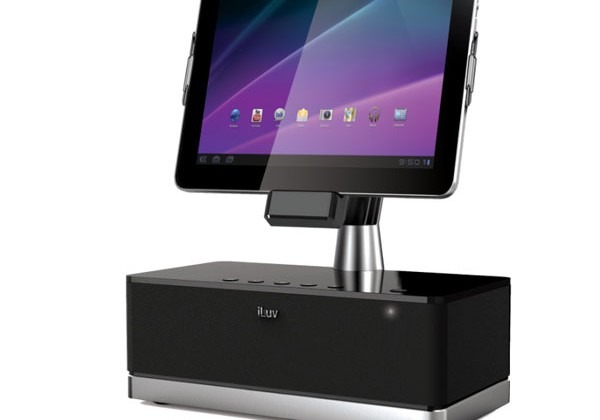 If you are rocking a Samsung Galaxy Tablet of some sort and have, a hankering for a new audio dock iLuv has a product that is just for you. The new audio dock is billed as the world's first dock just for the Galaxy line of tablets. The dock is called the iSM524 and looks very similar to the iMM517 that was launched for the iPad back in September.
The dock is intended to turn the tablet into a cinematic viewing system for streaming content. It looks a lot like an old TV to me. The official name for the dock is the ArtStation Pro, and this is the first product from the partnership between Samsung and iLuv called Designed for Samsung Mobile. The little remote sticks to the back of the dock using magnets so it's close at hand when you need it.
The docking station uses jAura acoustic tech for clean and clear sound and will support the tablet in portrait or landscape mode. It will work for the Galaxy Tab 10.1", 8.9", 7.7", and second versions 7" tablets. It also has a remote control that allows skipping back and forth within audio content and video. The docking station will launch this month for $149.99.