iLuv i9200 quad-CD iPod speaker dock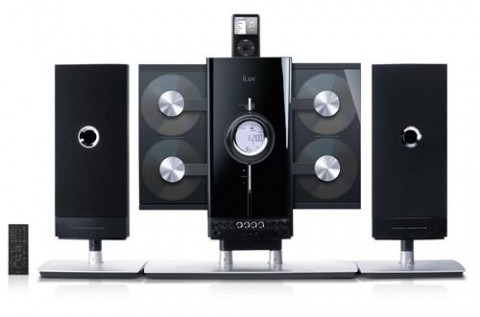 Looking not a little imposing (I'm thinking evil manga robot butterfly, for some reason), iLuv's new i9200 media player wants to take pride of place on your wall.  As well as a somewhat B&O-inspired four CD player, capable of reading MP3 discs, there's an iPod dock and AM/FM radio. 
If you have an iPod with video (30GB, 60GB, 80GB), iPod nano (1st generation, 2nd generation), iPod mini or iPod 4G you're good to go with the integrated dock, which will both suck the music from your PMP and recharge it simultaneously.  The radio has 32 presets (split between FM and AM) and there's a clock/alarm. 
Total output is 20W via the included stereo speakers, but you can also add a subwoofer should extra bass be prescribed.  It's available in black and white – as the i9200BLK and i9200WHT, unsurprisingly – priced at $229.99.