iLuv i1255 iPod & DVD budget 5.1 home entertainment system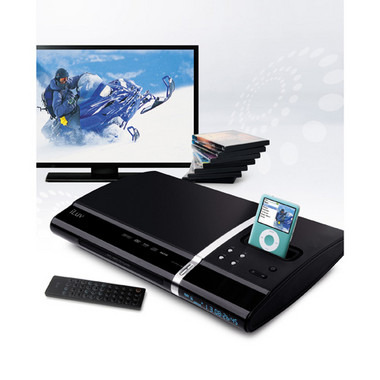 Rocking the budget-Bose look, iLuv's latest surround sound home theatre setup, the i1255, gives you the choice between DVD and iPod audio and video playback.  Your $149.99 obviously doesn't get you a high-def powerhouse – outputs, for instance, are S-Video or standard AV - but there's flexibility a-plenty if you're not bothered with the 1080p revolution. 
The built-in dock is compatible with most of the more recent Apple models: the 6th generation iPods, iPod touch, iPod classic (80GB, 160GB), iPod Nano 3rd Gen, and iPod with video (30GB, 60GB, 80GB).  The i1255 simultaneously recharges the PMP and plays back media stored on it; an OSD lets you browse from the sofa.
Meanwhile, there are component video and coaxial digital audio outputs for the DVD player, which is content with not only DVDs but VCD, MP3 CD, audio CD, JPEG CD and Kodak Picture CD formats.  An audio input lets you play music from another source, albeit not remotely controlled such as with the iPod, through the surround speakers.
You're not going to be replacing a serious home entertainment system with this, but as a budget buy the price is right.  The iLuv i1255 is available now.