iLuv i1155 8.4 Inch Portable Multimedia Player for your iPod and DVDs Review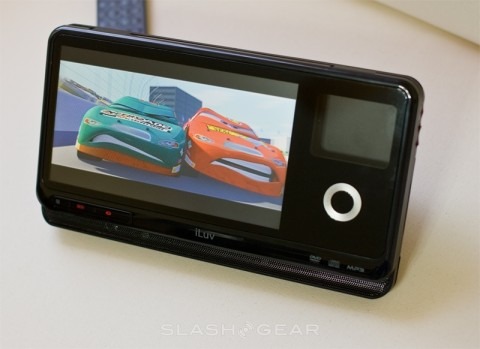 Video capable iPods have made portable media all the more accessible. Attempt to watch anything more than a short clip on one, though, and you'll be wishing for glasses or, preferably, a larger screen. That's where the iLuv i1155 Portable Multimedia Player comes in, offering not only a big display for iPod video playback but a DVD for all the legacy discs that copyright laws won't let you rip. It even manages to look attractive; is the experience as good as the promise, though?
To load either your iPod or a DVD, the iLuv i1155 opens up like a laptop; inside there's a DVD bay and a cut-out for the PMP. The screen is on the outside, so the i1155 is intended to be used as a slate, not with the lid flipped up like most portable DVD players. Somewhat strange is iLuv's choice of iPod accommodation: the compact slot will only fit the iPod Classic, iPod Video and 3rd generation iPod Nano, and the latter will require an adapter (sold-separately) in order to bring its display up to the window cutout to the right-hand side of the LCD.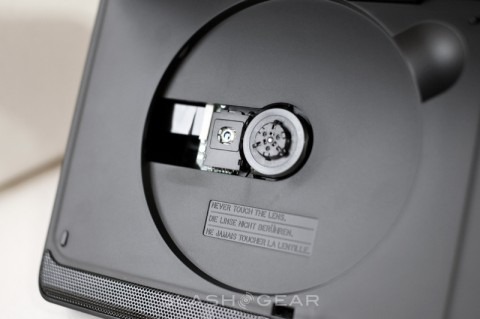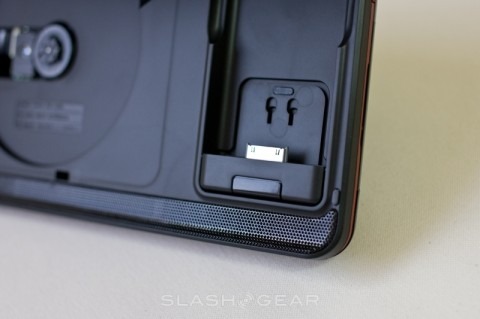 The point of any dock of this nature is to give you a bigger, better display than what comes on your iPod, and happily iLuv didn't stint on their choice. Measuring 8.4-inches and true 16:9 wide-aspect, the LCD is clear and bright, with no shadowing, and has reasonable viewing angles to either side. We'd say around 130-degrees maintaining decent color. An adjustable stand flaps out of the back of the unit and allows it to be propped up at various angles.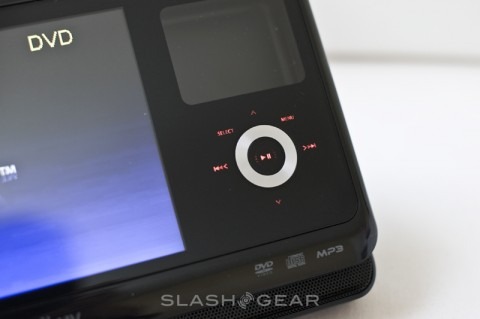 Control is either via the included remote or the touch-sensitive buttons on the i1155 itself. Although these roughly resemble the layout of an iPod's scroll-wheel, there's actually no scrolling functionality; instead you get simple illuminated skip/pause/stop/etc keys. For DVDs, it's everything you need to navigate the standard menus on the i1155's screen; iPod navigation is done on the PMP's own display, visible through the small window, with only actual playback on the main display.
Sound quality from the i1155 is decent, and there are two headphone sockets in addition to the integrated speakers making it handy for in-car use. Unfortunately the DVD player mechanism itself is far from discrete, with a continuous, loud spinning sound whenever it's playing a disc. Compounding that, the volume from the internal speakers doesn't go as high as we'd like; you could hook up a larger, amplified pair through the audio output jack, but that seems an unnecessary chore when the i1155 is meant to be a standalone solution.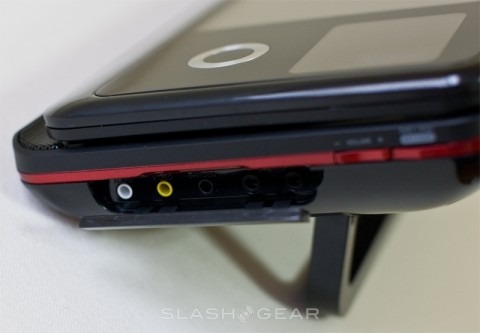 Fully charged, the iLuv i1155 lasted us 2 hours and 42 minutes in DVD playback. That's almost twenty minutes short of iLuv's expectations. iPod playback lasts longer, but not as much as you might expect; the company predicts around 4 hours, and we got within a stone's throw of that. What all that means is that you'll be wanting to carry the included AC adapter and cigarette lighter adapter with you; a full charge takes 4-5hrs.
We're not entirely convinced by the iLuv i1155. For a start, the limited number of supported iPods – which doesn't include any of the current generation nano, touch or iPhone models – cuts down its potential audience significantly; throw in our review unit's noisy DVD mechanism and it's a potentially frustrating video dock on both counts. Reasonable battery life, a decent screen and slick design are in the iLuv i1155's favor, but unless you fit the narrow niche you could do better shopping elsewhere.
[vms 11a242b9765e79cbf113]