iLIVEx Pro Lets iPad Users Show Screens Using Projector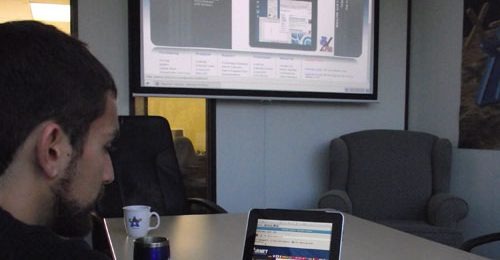 The iPad is a very cool and useful tool for the average consumer and the pro user. The thing is portable, can be used for all sorts of work and play needs, and has long battery life making it perfect for on the go types. A company called StarNet Communications has unveiled a new product called iLIVEx Pro for the iPad that lets pro types use the iPad for presentations over a projector.
The iLIVEx Pro is an X11 client for the iPad that is aimed at business pros and engineers that need to make presentations or perform remote diagnostics and more using the iPad. The iLIVEx Pro displays a web browser and remote Linux or Unix desktops on VGA compatible conference room projectors and digital TVs.
The device allows users to collaborate using session shadowing feature where multiple iPad and desktop users can connect to the same remote X desktop or app. The device also allows users to create new session on remote Unix and Linux servers. The device also lets iPad users enjoy Flash content and more over 3G connections.