iKey Unveils Ultra-Compact SWB-86-TP Keyboard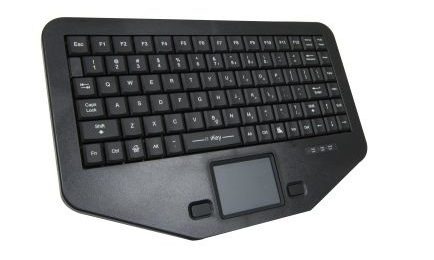 iKey has announced the latest model in its line of ultra-compact keyboards: the SWB-86-TP. This rugged unit is part of the company's WaterBoard line of keyboards, and is aimed at the public safety market, particularly for in-vehicle use. The SWB-86-TP is completely plug-and-play, meaning you can just grab it and go, no drivers required.
The SWB-86-TP features a laser-etched legend and keys backlit with red LEDs, optimizing it for low-light settings. The unit has an integrated touchpad, allowing you to leave your mouse at home. The device itself is built to be rugged, an especially useful feature for those who travel around with their keyboard frequently.
According to the announcement, this model is "ideal for in-vehicle applications." The SWB-86-TP is completely sealed to NEMA 4X standards, protecting it from accidental spills, as well as making it easier to clean than normal keyboards. Because of its sealed body, the unit is also "impermeable to corrosives," making it a good choice for harsh environments.
iKey's Operations Manager Dave Huddleston offered this statement. "Many of our public safety customers require a rugged keyboard but don't want to sacrifice typing speed or accuracy. The SWB-86-TP was engineered to address these needs, combining the convenience of a compact keyboard sealed to IP65 standards with full-travel key caps."