IKEA UPPLEVA integrated AV furniture coming this fall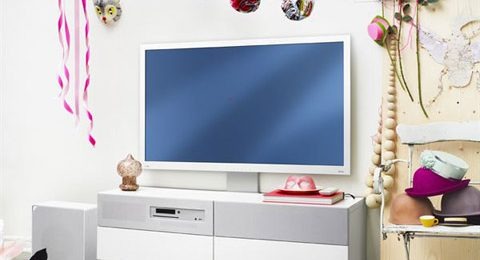 Swedish retailer IKEA plans to launch a range of AV-integrated furniture later this year, UPPLEVA, delivering LED smart TVs, sound systems and Blu-ray in cable-tidied all-in-one systems. The media furniture, created in partnership with Chinese firm TCL, will be priced from around 6,500 Swedish kronor ($955), and be offered in three different designs; initially eight countries will get the kit from fall this year, before worldwide availability in spring 2013.
All three variants will include a TV and a 2.1 sound system with a wireless subwoofer, along with CD/DVD/Blu-ray support. There'll also be an internet connection – WiFi, according to the video below – for sets above 24-inches; IKEA hasn't specified exactly what panel sizes will be on offer yet, though the line-up is believed to kick off at 20-inches. Ports include four HDMI on the side of the screen, along with two USB; there's also an AV-input for your iPod, and an FM radio.
IKEA claims its research shows there's a big market for home entertainment devices which hide the cabling away from sight. All of the new AV furniture will route the necessary connections – at least those which aren't wireless – directly through the hardware itself, and everything will be controlled via a single remote.
Judging by the interface shown below, the systems will also offer support for USB devices, such as playing back photos, music and video from an attached hard-drive. Sweden, France, Italy, Poland, Spain, Denmark, Norway and Portugal will all get the new UPPLEVA range first, with the initial units dropping in fall this year.