iHome to unveil app-enhanced iOS docks at CES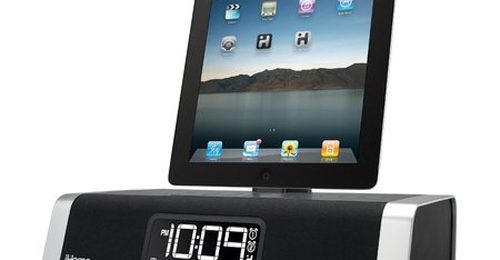 Accessories maker iHome teased today a new line of iOS docks that will be unveiled at CES next week. The lineup includes three new iOS alarm clock speaker docks that incorporate Apple's AirPlay technology and are app-enhanced. They are the iW4 AirPlay Wireless, the iP18 LED Color Changing, and the iD50 App-Enhanced Bluetooth models.
The iW4 AirPlay Wireless model comes in a sleek black chassis and works with your iPad, iPhone, or iPod. With AirPlay, you can easily stream your iTunes collection to the speaker dock over your home WiFi network. The iP18 is more whimsical, featuring a cube design that glows with color-changing LEDs. It has a smaller footprint and only works with your iPhone or iPod.
The iD50 model is an app-enhanced Bluetooth clock, radio, and speaker dock, compatible with your iPad, iPhone, or iPod. The iW4, iP18, and the iD50 are priced respectively at $269.99, $69.99, and $169.99. The devices will debut at CES, but likely won't be available until sometime later this year.
[via PCMag]