iHome ships world's most customizable alarm clock called iA5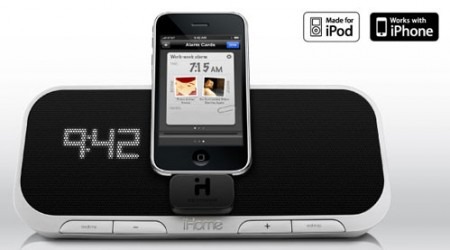 The huge popularity of the iPhone and iPod models means that there are an enormous amount of accessories and items for the devices to extend their functionality. iHome is one of the more prolific makers of all sorts of speaker docks and other gear for the iPhone. The company has announced that it is now shipping its cool iA5 App-enhanced Alarm Clock Speaker System.
The iA5 uses an app to turn the iPhone into an integral part of the alarm clock. The software portion turns the clock into an information hub. The app shows news that happened while you were asleep, offers many options for alarms, and records statistics about your sleep.
The iA5 docks and charges your iPhone or iPod touch and has a backup power source for the clock in the event of a power outage that uses three AAA batteries. The clock measures 9.34" W x 5.83" H x 3.9" D. Other features include a button to synchronize the clock time with the iPhone, local weather info, an adjustable snooze timer, and lots more. The clock is available now for $99.99.