iHome iP39SZC iPhone speaker dock and kitchen timer drops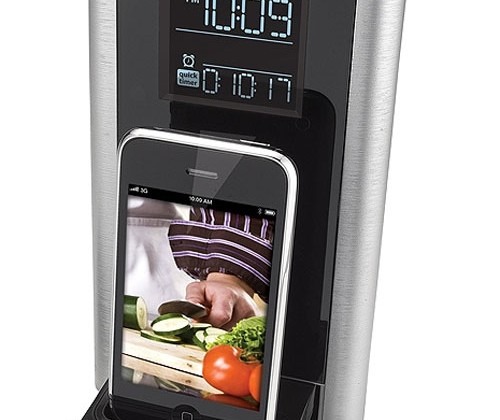 On more than one occasion I have found myself in the kitchen needing to cook more than one thing and having only one timer. I typically do what any average geek with an iPhone in their pocket would do and set up a timer there. If you often have a similar issue iHome has a cool new iPhone/iPod dock with a kitchen timer built-in.
The thing is called the iP39SZC Kitchen Timer and FM Alarm Clock Radio Speaker System for iPhone/iPod. I hope the thing has a really big box to fit that entire product name. The dock has an integrated alarm clock that can wake you to your iPod or FM radio. It charges and plays music from the device at the same time as well.
You can set dual alarms that allow you to set exactly when they go off by the day of the week. A USB charge port is integrated to allow you to charge an additional USB device at the same time. Two kitchen timers are integrated letting you cook your pizza and chill that beer in the freezer perfectly. The device isn't available to purchase just yet, but it will sell for $99.99.