iHome drops new iP3BZC iPod/iPhone dock with 50W of power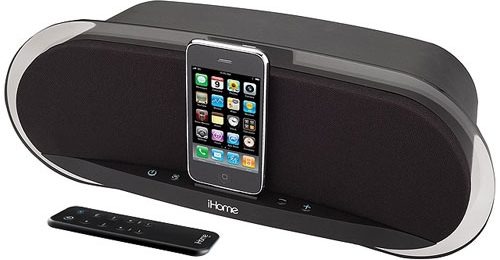 I have played with lots of iPhone and iPod docks over the years and many of them sound pretty good but the thing they almost all lack is power. If you are a fan of deep bass in your music, you don't often find that in a docking station and the reason is that the things often just don't have the power to give that deep bass.
iHome has a new docking station that will work with any dockable iPod and the iPhone called the iP3BZC. The dock has Bongiovi Digital Power Station technology, which is a real time DSP constantly scanning audio and restoring the detail lost in compressed audio formats. The 50W of power the dock has drives a pair of 3.5" coaxial neodymium speakers to deliver improved sound quality.
The dock also has a built-in EQ, AV output for sending video to another screen, and a line-in jack. That line-in jack allows the dock to work with any music player. The design of the dock is adjustable so inserts aren't needed. The iP3 is available right now for $199.99.