iHeartRadio partners with Napster for on-demand music streaming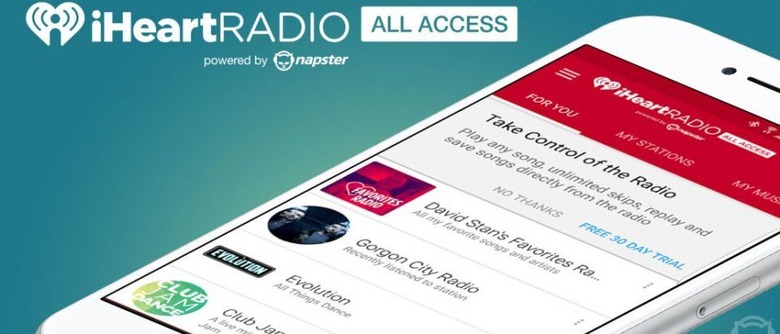 The streaming music market is already a crowded one, but that isn't stopping iHeartRadio, the conglomerate behind over 800 US radio stations, from jumping in. With updates to both its iOS and Android apps this week, the service has debuted two new paid subscription plans that allow users to stream music on-demand, thanks in part to a new partnership with Napster.
First up is iHeartRadioPlus at $4.99 per month, which allows users to search for songs playing on live digital radio, along with offering unlimited skips, replays, and the ability to save to playlists. Next is iHeartRadio All Access, priced at $9.99 per month, which has everything the previous package does, along with unlimited access to an on-demand library of "millions of songs," unlimited number of playlists, and offline listening.
Napster, previously known as Rhapsody in the US, is responsible for both the streaming technology and music library, which may or may not be comparable to that of Spotify or Apple Music. Fortunately both subscription tiers come with free 30-day trials.
While iHeartRadio's $9.99 tier is priced comparatively with top music streaming services Spotify, Tidal, and Apple Music, its features seem to put it more in competition with Pandora Plus. Both services' $4.99 tiers are near identical, and rather than focusing on giving users the ability to build music collections, they seem to offer a happy medium between live FM radio and on-demand streaming.
SOURCE iHeartRadio, Napster