iFixit Guts The Motorola Droid Bionic In Latest Teardown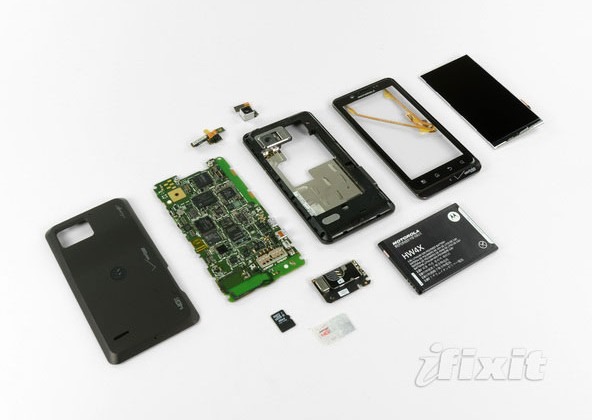 The big smartphone release of this month was certainly the Droid Bionic by Motorola. You can pick the smartphone up right now with the device officially on sale as of yesterday in Verizon stores and on Amazon. iFixit is apt to get their hands on the latest deices just long enough to tear them up and this time is no different. The gang has ripped up its Droid Bionic for us to check out.
The process of tearing the Bionic down starts the same as always with the removal of the battery door and battery. Under the microSD card is the 4G SIM card. After that out comes the little prying tool and the device is snapped open. The EMI shields go away along with the SIM card holder and then it's off with the ribbon cables.
iFixit points out that the front camera of the Bionic was never officially given a megapixel count by Motorola. However, the VGA quality says 0.3MP. The camera is pulled off and then we see all the chips and other things on the board. You can see the OMAP processor, SanDisk flash memory, and all of the other things that make the phone run. The screen is covered in Gorilla Glass and is the last part taken out. Check out the pics from the iFixit teardown in the gallery.