IE9 5x more malware secure than Firefox say researchers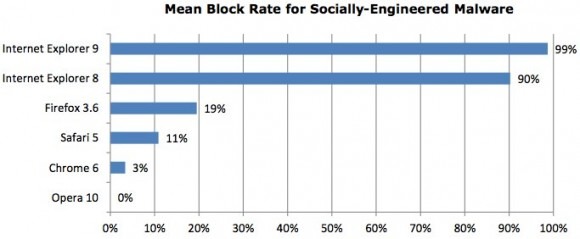 Internet Explorer 9 has been praised for its malware-blocking abilities, with researchers NSS Labs finding [pdf link] the Microsoft browser was more than five times more likely to protect surfers from socially-engineered malware than Firefox 3.6. Looking solely at "a web page link that directly leads to a download that delivers a malicious payload whose content type would lead to execution, or more generally a website known to host malware links" – i.e. fake downloads as often seen on Facebook or Twitter – the research found IE9 capable of blocking 99-percent of the threats encountered.
The nearest alternative was Internet Explorer 8, which blocked 90-percent. NSS Labs credit SmartScreen URL filtering, included in IE8 and IE9, for the strong showing; only IE9 has SmartScreen application reputation protection, however, hence the difference in results.
Meanwhile, Apple's Safari 5 languished with 11-percent of threats blocked, Chrome 6 did even worse with 3-percent, and Opera 10 failed to block any of the downloads. Around 636 URLs were included in the testing, and interestingly – as shown in the following chart – despite both Safari 5 and Firefox 3.6 each using Google's Safe Browser feed, the two apps seemingly implemented it in different ways.