IDC tablet shipment numbers show high growth for all but Apple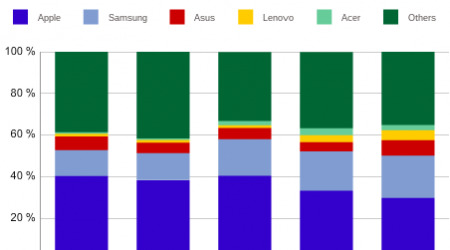 IDC has released its third-quarter numbers on the tablet industry, and in them we see good news for four of the top five tablet vendors, with all but Apple seeing growth — in a couple cases, substantial growth — year-on-year. For Samsung in particular, the market share numbers compared to the same quarter last year rose by 8-percent, taking the Korean company above the 20-percent mark.
According to the numbers, Apple still clocks in at #1 on the list, holding a market share of 29.6-percent as of the third-quarter of this year, a big change over 2012's Q3 market share of 40.2-percent — annual growth was also unremarkable, with the company gaining year-on-year only 0.6-percent. Samsung is still number two on the list, something that isn't surprising, but the Korean company experienced far better numbers.
Samsung saw a year-over-year growth of 123-percent, with the latest third quarter clocking in at 20.4-percent in market share over 2012's 12.4-percent in the same quarter. ASUS saw moderate yearly growth at 53.9-percent (7.4-percent market share over 2012's 6.6-percent), while Lenovo saw the highest year-over-year growth at 420.7-percent and Acer came in close behind at 346.3-percent. Acer's market share this third quarter was 2.5-percent, while Lenovo's was 4.8-percent.
Said IDC Research Director Tom Mainelli: "White box tablet shipments continue to constitute a fairly large percentage of the Android devices shipped into the market. These low cost Android-based products make tablets available to a wider market of consumers, which is good. However, many use cheap parts and non Google-approved versions of Android that can result in an unsatisfactory customer experience, limited usage, and very little engagement with the ecosystem. Android's growth in tablets has been stunning to watch, but shipments alone won't guarantee long-term success."
SOURCE: IDC