IDC: Samsung slides, Apple loses market share in smartphones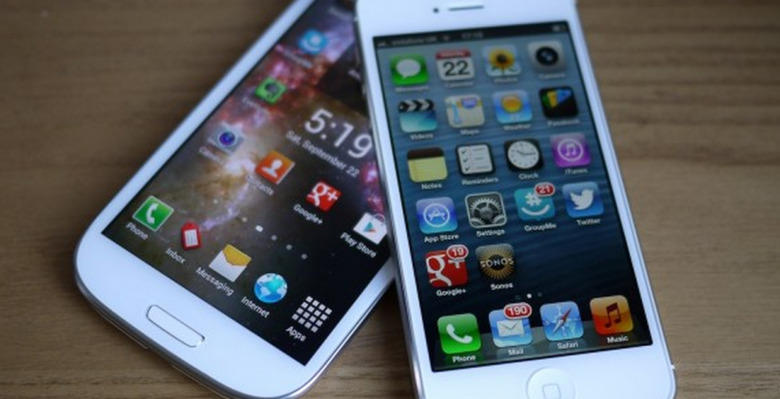 Wait a second, did you say that both Apple and Samsung were losing footing in the smartphone market? Yes and no. According to the IDC, an organization which tracks shipments of devices, not final sales, and both Samsung and Apple had lower numbers in different ways.
Samsung had a smaller market share as well as smaller shipment volume compared to the second quarter of 2013. IDC's latest report covers the second quarter of 2014 and shows a -3.9% growth for Samsung overall.
In the second quarter of 2013, Samsung had shipment volume of 77.3 million smartphones compared to 74.3 million here in Q2 2014. Samsung's market share also went down – 32.3% domination of the market fell to 25.2% over the past year.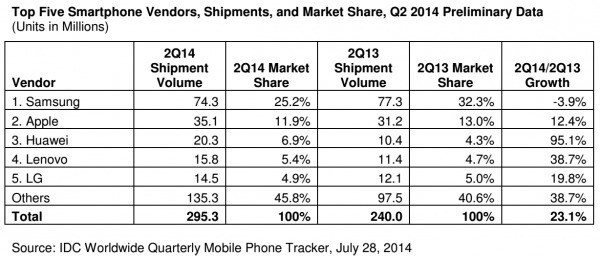 Apple actually increased their shipment volume from 31.2 million units in the 2nd quarter of 2013 to 35.1 million units here in Q2 2014. That's a 12.4% increase in shipments. Meanwhile their market share went down, 13% to 11.9% over the past year.
Huawei made the greatest gains over the past year, bringing a whopping 95.1% increase year-over-year. Huawei shipped 10.4 million units in Q2 2013 and 20.3 million units in Q2 2014. Their market share went up several points as well, from 4.3% to 6.9%.
Lenovo and LG stayed neck-and-neck with 11.4 million units and 12.1 million units in Q2 2013 respectively, rolling up to 15.8 million units and 14.5 million units in Q2 2014.
Lenovo saw a 38.7% gain in shipments while LG went up 19.8%. Their market shares stayed similar as well, with Lenovo moving from 4.7% to 5.4% while LG went down a tenth of a point, 5.0% to 4.9% year-over-year.
The rest of the brands in the smartphone market are too small to fit in IDC's top 5, while the entire smartphone market went up by 23.1%. Q2 2013 saw 240 million smartphones shipped, while Q2 2014 brought the heat with 295.3 million smartphones shipped.