IDC: Apple At The Top, Worldwide Smartphone Market Grows 65.4% In Q2 2011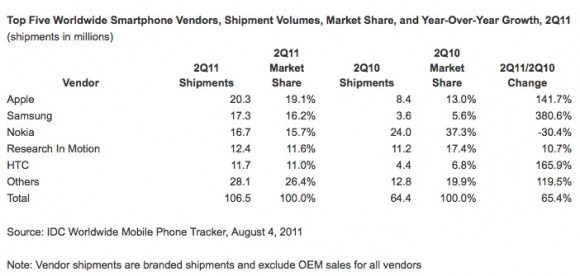 According to a new report from market research firm IDC, the worldwide mobile phone market has grown 65.4% in the second quarter of 2011 when compared to the same quarter last year. Results from Q2 2011 also mark the third consecutive month in which sales were over 100 million units. And who's right up at the top? Well, we already know that's Apple.
"The smartphone market crowned a new leader in 2Q11, and its name is Apple," said IDC senior research analyst Ramon Llamas. "Ever since the first iPhone launched in 2007, Apple has made market-setting strides in hardware, software, and channel development to grab mindshare and market share. Demand has been so strong that even models that have been out for one or two years are still being sought out. With an expected refresh later this year, volumes are set to reach higher levels."
IDC had previously reported the top five mobile phone vendors in the world, based on shipment volumes of both smartphones and feature phones. But now taking a look at only smartphone figures, Apple is leading the pack with 19.1% share of the market, followed in order by Samsung, Nokia, Research In Motion, and HTC.
We've also seen a similar ranking when looking at Q2 2011 profits. Apple grabbed the top spot with a whopping two-thirds of the industry's profits, followed in order by Samsung, RIM, and HTC. Nokia, Motorola, Sony-Ericsson, and LG had all reported losses.
Apple's rise to the top comes at a time when former heavy-weight Nokia is in transition. The iPhone has also increased in both consumer and business use and maintained strong demand in both emerging and developed markets. However, Apple has yet to surpass Nokia's quarterly record of 28.1 million units. But they look set to do so with it being only a matter of time.
Samsung saw the largest growth year-over-year largely thanks to the popularity of its Galaxy S smartphones, while RIM posted the smallest year-over-year growth after having released very few new models and facing increasingly more competitors for its enterprise market.
[via Businesswire]