iCloud welcome email sent out early to some users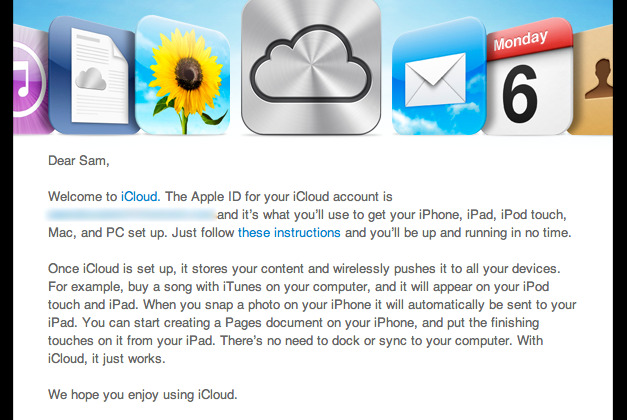 Apple has reportedly begun distributing a welcome email for its iCloud service to some users ahead of the company's major event next Tuesday, when it's expected to unveil the iPhone 5, iOS 5, and the iCloud. It's not clear why certain individuals got this invitation early, but the broken link contained in the email suggests that it may have been accidentally sent.
The welcome message begins by letting users know that their email will become their Apple ID for accessing their iCloud account and for setting up the iCloud on their iPhone, iPad, iPod touch, Mac, and/or PC. The message then provides a link to instructions, but the page at the end of that link doesn't appear to be ready.
The email then continues to reiterate come of the iCloud's capabilities, which includes being able to snap a photo on your iPhone and then seeing it automatically on your iPad. You can also start a Pages document on your iPhone and then finish it from your iPad. "With iCloud, it just works."
For all the details from the October 4 Apple event, stay tuned for our live blog at http://live.slashgear.com
[via AppleInsider]