Ice Cream Sandwich Launch Confirmed By Android Developers YouTube Channel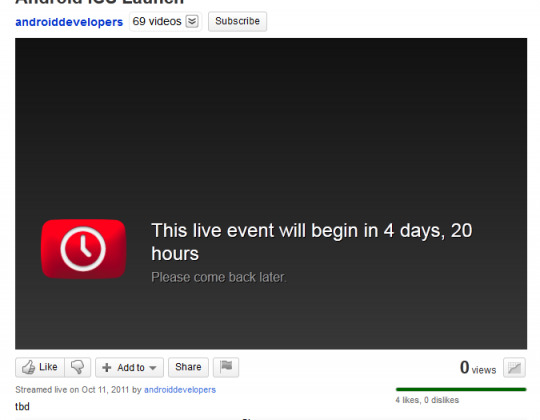 Google's next-gen Android platform dubbed Ice Cream Sandwich looks certain to make an appearance at next week's CTIA event. Samsung has already begun teasing the details via videos for its CTIA Samsung Unpacked event and now the official Android Developers YouTube channel is confirming the same.
The Android Developers YouTube channel has posted an upcoming live stream titled "Android ICS Launch" and it's scheduled to take place in a little under 5 days. This channel is where we got our first look at Android 3.0 Honeycomb, so the appearance of this scheduled live stream pretty much confirms the launch for next week.
Android 2.4 or 4.0 Ice Cream Sandwich will be a unifying platform that will run on both smartphones and tablets. It was first announced back at Google I/O and is expected to launch with a new hero device rumored as the Nexus Prime developed by Samsung. Teaser renderings of the handset in profile view have surfaced with a full frontal rendering having been leaked just earlier today.
Make sure to check those out and then stay tuned here for all the upcoming info and hands-on because we'll be there live at Samsung Unpacked to bring you all the details.