iBuyPower unveils high-end Erebus gaming desktop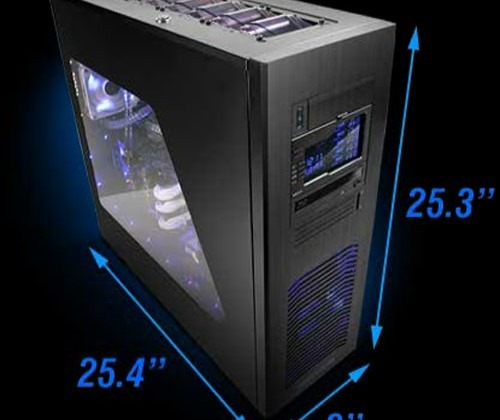 iBuyPower has announced a new gaming desktop that has some really cool features that make it well suited to the gaming enthusiast looking to get all the performance they can out of their gaming rig called the Erebus. The machine is made for overclockers that like to tweak and comes packed with liquid cooling and a lot more. The performance of the liquid cooling system inside the finned chassis is very impressive; iBuyPower claims that the system can dissipate 3400W of heat.
That liquid cooling system has three dual 120mm fan radiators and a single quad 120mm fan radiator in some versions. The tubing used to plumb the system is wrapped in springy looking wire to prevent kinks and has a 13mm diameter to allow for higher liquid flow. There are a number of configurations that the gamer can start with and the machine can be completely customized as well. The entry-level price point of the Erebus starts at $1249 with a Core i5-2400 processor, single NVIDIA GTX 550Ti video card, 500GB of storage and 4GB of RAM.
The most feature packed system checks in at a wallet busting $6899 and it is packed with hardware. That machine uses an Intel Core i7-990X Extreme processor, the full 6x120mm liquid cooling system, 12GB of RAM, dual 96GB SSDs, 2TB main storage, and a Blu-ray player. Graphics in that high-end version are via three NVIDIA GTX 580 Superclocked video cards.