iBUYPOWER Launches MAGIC for Multitouch Gaming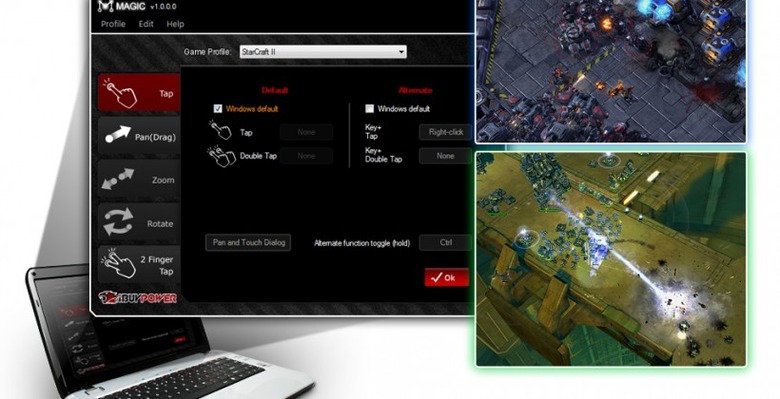 iBUYPOWER is a familiar name around here, and when they keep launching cool things like this, we're not surprised. This time around it's not a piece of excellent PC gaming hardware, but more on the software side of things. The company has just announced that MAGIC is available for all of their multitouch-capable gaming rigs. What is MAGIC? Well, follow after the break to find out.
Multitouch Advanced Gaming Interface and Control (MAGIC). It's iBUYPOWER's proprietary multitouch software, which was specifically designed to work in conjunction with iBUYPOWER's multitouch gaming notebooks. The idea is that if you install this software on your multitouch notebook, you'll be able to play any game with the technology. Which, as you'd expect, means that the games open a lot of new doors for the experience.
It works by allowing MAGIC to link a multitouch gesture to a specific command. You'll be emulating mouse-clicks and keyboard strokes just by a simple gesture with this software, which should make plenty of gamers out there happy with the options. Plus, just doing a few strokes with your finger, as opposed to clicking a key, may not be the quickest implementation, but at least it's awesome to watch and do.
"Multi touch is one of the fastest growing PC gaming interfaces," said Darren Su, Executive Vice President of iBUYPOWER. "Our motivation behind creating the Multi-touch Advanced Gaming Interface and Control—MAGIC—is to instantly expand compatibility of multi-touch interfaces to nearly every application you can imagine."
Press Release:
El Monte, CA – July 1, 2010 – iBUYPOWER, three-time winner of Intel's Most Innovative Desktop Solution award, is excited to announce the Multi-touch Advanced Gaming Interface and Control (MAGIC), proprietary multi-touch software designed exclusively for use with iBUYPOWER's line of multi-touch gaming notebooks. Developed in the iBUYPOWER Labs, MAGIC software allows users to play any game with multi-touch, creating a unique and completely customizable gaming experience.

MAGIC links a multi-touch gesture to a command the game already understands, emulating multitouch commands by mapping keystrokes or mouse clicks. Gamers simply create a customizable profile for each game assigning Tap, Pan (Drag), Rotate, and 2 Finger Tap actions to existing game commands.

"Multi touch is one of the fastest growing PC gaming interfaces," said Darren Su, Executive Vice President of iBUYPOWER. "Our motivation behind creating the Multi-touch Advanced Gaming Interface and Control—MAGIC—is to instantly expand compatibility of multi-touch interfaces to nearly every application you can imagine."

MAGIC Software is available for free download on http://www.ibuypower.com/magic/download.aspx and is usable with iBUYPOWER's newest multi-touch gaming notebook, the Battalion Touch CZ-11. The cutting edge notebook features an Intel Core i5 or i7 processor, a DirectX 11 compatible ATI Radeon HD 5650 graphics card, up to 8GB DDR3 Memory and a breathtaking 15.6 inch LCD with Full HD 1920 x 1080 resolution. The Battalion CZ-11 is available for customization now starting at $1,249exclusively at www.ibuypower.com.

For additional information about iBUYPOWER please visit www.iBUYPOWER.com, or contact PR representative Mark Olson at 305.576.1171 x17 or markolson@maxborgesagency.com.

About iBUYPOWER

iBUYPOWER Computer, an enterprise in association with American Future Technology Corporation (AFT), is one of the largest system builders in the PC gaming industry. Located in Los Angeles County, iBUYPOWER's mission is to provide a complete computing solution to meet the needs of the surrounding community and customers nationwide. Currently, the company's product lines include gaming desktops, gaming notebooks, workstations, media center PCs, peripherals and multimedia products. www.iBUYPOWER.com