iBUYPOWER launches a trio of Newegg Exclusive Gaming systems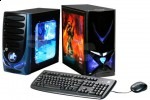 We may receive a commission on purchases made from links.
The custom PC builder, IBUYPOWER is hooking up with Newegg to launch a trio of gaming machines built upon an Intel Core 2 Quad Q8200, i7 920 to AMD Athlon 64 X2 5000+ processors at affordable prices under $1000.
The Gamer Power 505 is an entry-level gaming rig based on Athlon 5000+ platform with Medusa Gaming Tower. The side door has a large clear window to show off its decorated interior with shining Blue LED light. For $499, it comes with standard with the NVIDIA 9500GT video card, 4GB of DDR2 800 and a 320GB SATA II HDD.
Not much of an AMD fan? IBUYPOWER prepped a pair of Intel machines, one spec out and priced around the 505 setup with Intel Core 2 Quad Q8200 and NVIDIA GeForce 8400GS; the other driven by i7 920 (2.66Ghz) and NVIDIA GeForce 9800GT, built for more developed gamer in mind. Both the Intel rigs are housed in a painted iBUYPOWER Vantage Case with a detailed Halo2 side panel graphic. The Gamer Power 903 and Gamer Extreme 968i will set you back $520 and $980, respectively.