iBlaze iPod Intelligent Bag - it can control your iPod, and your brain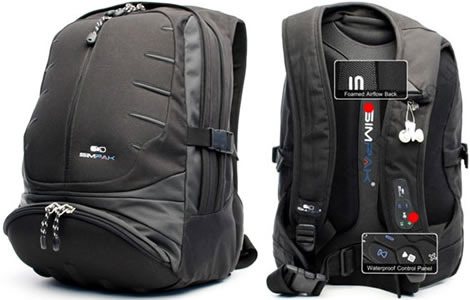 Well, maybe not your brain, but it does have integrated iPod controls. It also has integrated retractable headphones, so no more tangled headphones, and putting everything up once you arrive in class is as simple as hitting pause and giving the earbuds a tug so they retract.
The backpack itself looks quite capacious and can even hold up to a 17" MacBook (or other 17" notebook, but why settle for less?). There is a padded, weatherproof pouch for both the iPod and the notebook and the padded pouch for the notebook is even removable.
There are two pockets on the front, an extension zipper, compression straps, a waist strap, and pads in the back that make it comfortable to wear. If you want one, its 50 pounds, or about $99 USD which isn't bad for such a nice backpack, lord knows I've spent more for less when it comes to backpacks.
[via geekalerts]