I-Tracker From Transystem Keeps Track Of Anything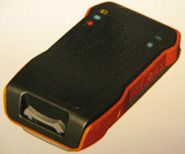 Personal GPS trackers seem to be a dime a dozen these days. It's actually making me a little paranoid, not that anyone would want to keep tabs on me... or would they? Transystem's i-Tracker is the latest to come to my attention and it comes with both a GPS and a GSM module to transmit tracking information to a computer or phone in real time.
To be a bit redundant... it will be controlled via a predetermined handset or PC, so it seems it's one or the other. It also comes with an SOS button that will instantly send out the current location.
I have no word on either pricing or availability. Just keep in mind that there may be repercussions if you're caught using this on someone.
Transystem's i-Tracker keeps tabs on whatever you like [via Engadget]