I took Lamborghini's Aventador on the track (& only just survived)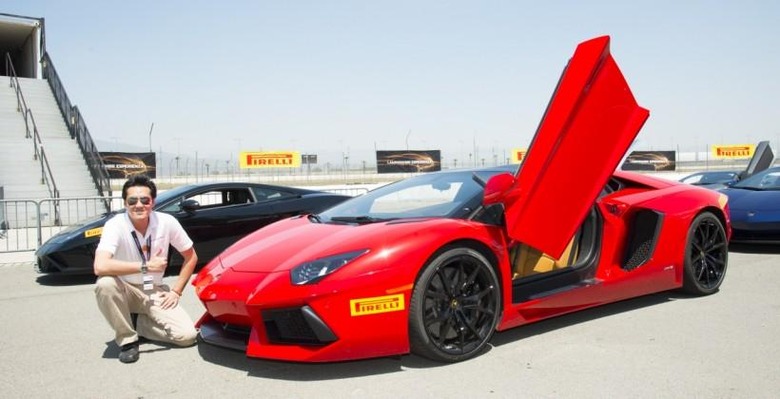 The promise of 700 horsepower is throbbing ominously behind me, audible even through the crash helmet, eager to show me what $400,000 worth of Lamborghini Aventador LP 700-4 can do when faced with an open track and an eager right foot. I know I should be checking the GoPro cameras suction-cupped to the windshield one last time, or memorizing the dashboard so I can tell you what hand-stitched Italian leather smells like, but all I can do is grip the contoured wheel and stare at the pace car ahead of me. Then the world clicks into hyperspeed.
Rewind some. When Lamborghini comes calling, asking if you'd like to take an Aventador on the track and get coached in driving a 217mph supercar at speed, you don't say no. That's why I found myself at the Auto Club Speedway in Fontana, CA, walking amid several million dollars worth of cars.
Lamborghini calls it Esperienza – "Experience" – but I call it a gearhead's dream.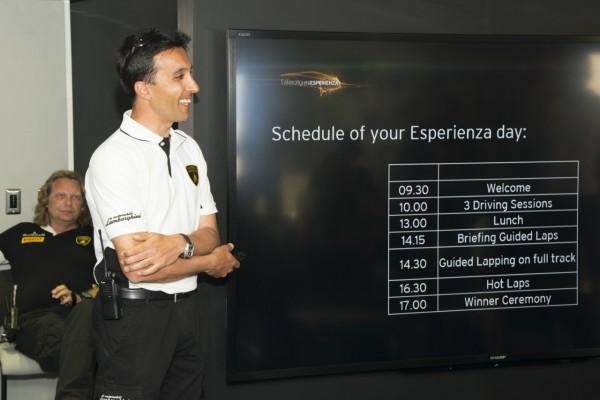 Usually it's an invitation-only driving event for would-be Lamborghini buyers, with factory-trained instructors first walking you through techniques like proper cornering, traction management, and how to get out of trouble, before you take to the track in earnest.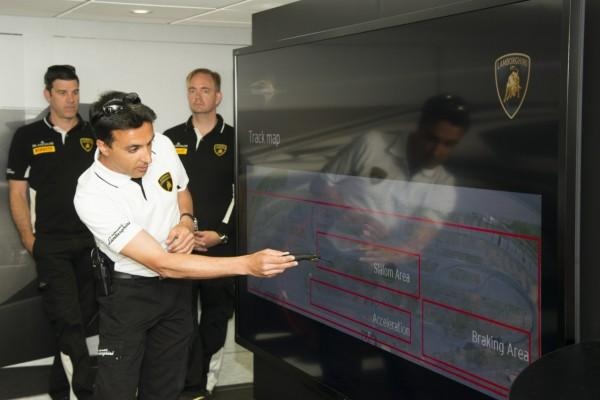 Calling the Aventador powerful is an understatement. The top-speed is a headline grabber but effectively theoretical on this 1.45 mile long track, with its thirteen turns. The two straights are a potential opportunity to test Lamborghini's claims that the coupe takes just 2.9 seconds to go 0-62mph, but the Aventador is about more than just pure speed.
Modern supercar buyers expect to be able to go around corners, too, and so the Aventador LP 700-4 puts down its power through a four-wheel-drive system 19-inch wheels up-front and 20-inch wheels at the back. On the way there's driver-adjustable ESP/ABS to change the handling style, and dual hydraulic brakes with carbon-ceramic rotors to haul you to a stop in short order.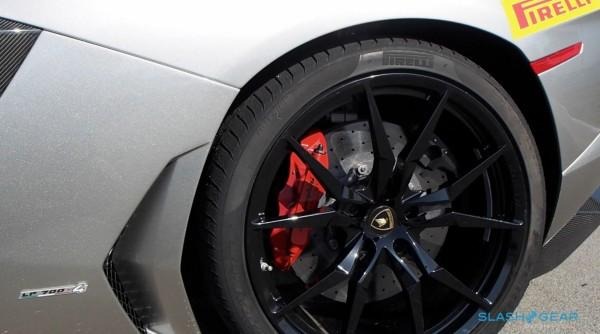 Designing the Lamborghini Huracán: Inside Italy's Supercar
That's important, when you're dealing with a 6.5-liter V12 and an undeniable desire to go fast. Lamborghini's pace car is more of a lane aid than a nannying presence, setting out the best line ahead of me but happy to pick up the speed if I feel confident enough to push harder.
First lap, and that confidence is a little lacking. Maybe it's the huge price tag, or the intimidating width, length, and most of all low-height of the LP 700-4, or the knowledge that I could easily catapult myself into a concrete barrier with the slightest jab of my foot, but I opt to take things – not easy, that's not really an allowable option in an Aventador – cautiously as I figure out whether the car wants to play along with me nicely, or simply play with me like a cat plays with an ill-fated mouse.
1.45 miles goes quickly. The Aventador is in Sport mode at first, its seven-speed auto-mechanical gearbox snicking through the ratios automatically as I grin my way around the twisting track. People have warned me that it can feel like a racing game, but there's little chance of that: you'd need an Oculus Rift hard-wired into your frontal cortex to get anywhere close to this feeling.
Second time out, and I click the car into Corsa ("race") mode. I'm in charge of gear-changes now, the paddles triggering a shotgun blast up and down that sends a jolt through your body. Coupled with the insane acceleration and it's like I'm being punched in the face – only in an utterly incredible, addictive, somebody-punch-me-again way. Lamborghini quotes a 50ms shift time.
The temptation is to stamp on the brakes, but they're so capable that it's almost like the road is flipped into reverse. Perhaps I'm learning to trust the Aventador's combination of mechanics and electronics, but after a couple of jerky halts where I completely under-estimate how fast a Lamborghini can take a corner, the formidable grip and unobtrusive ESP soon has me confident.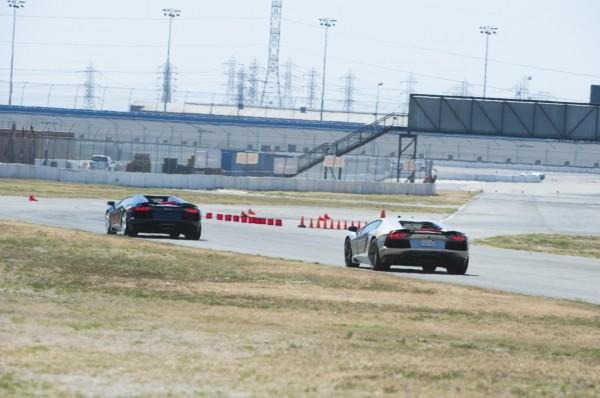 The raging bull is not to be taken for granted, however; the Aventador doesn't mind being pushed hard, but it won't be taken for granted. Over-eager in the slalom test, gunning it to the finish line, I oversteer and find myself momentarily drifting $400,000-worth of supercar. It's testament to Lamborghini's traction control and other systems that I managed to correct in time.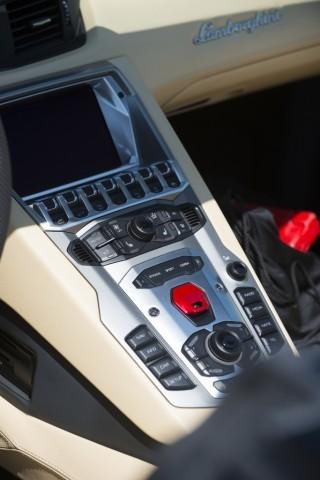 Everything about the car forces you to live in the moment. The cabin, with its sprawling center console and fighter-jet instrument cluster is comfortable, certainly, but everything from throttle response to gear changes to brakes demand attention.
I can't begrudge it that, either. A supercar should be a spectacle: a drive that's awash with personality. At no point should you be allowed to forget that you're in the presence of automotive greatness; surrounded with mechanical excess. The Aventador LP 700-4 makes performance driving into an art-form, and it's an "Esperienza" you'll never forget.