I took Google's Pixel XL on a photo tour down the Enchanted Highway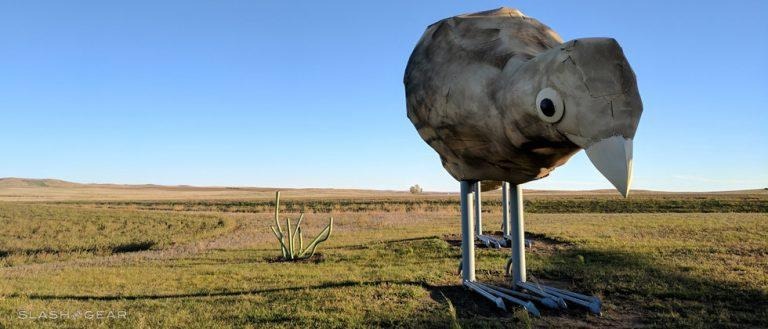 I took Google's Pixel XL to the Enchanted Highway – and that's not a euphemism. I went to the road by the name of Enchanted Highway in North Dakota, where I used the Google Pixel to capture photos. What's here is a set of photos which show the Pixel's real world abilities – lens flares included.
The photographs shown above and below have cropping and some have been rotated just a bit. They also have some resizing done to them so that they could fit this web format. Otherwise there is no editing done to these images, all captured by the Pixel XL. You'll notice the lack of editing immediately as the following photo shows glare from the window through which it was shot.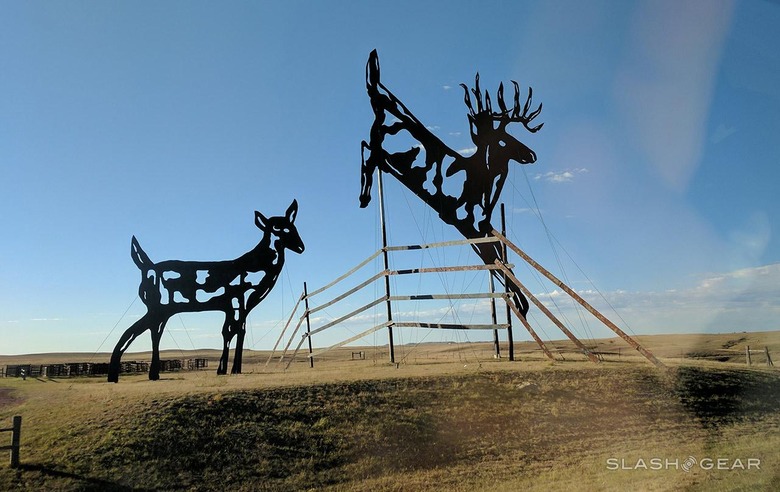 I began capturing photos at around 5PM Central Time on the 22nd of October, 2016. The sun was on its way down, and by the time my family and I were about halfway done with the journey, it was getting dim. The photographs which show lens flares faced the sun with intention.
That's not to say that there is too much or too little flare for the subject matter. In fact at this point in history, a Google product forum for the Pixel has a response to a question about flares by Google. Google's Pixel camera lead Isaac Reynolds suggested that they're working on the issue now.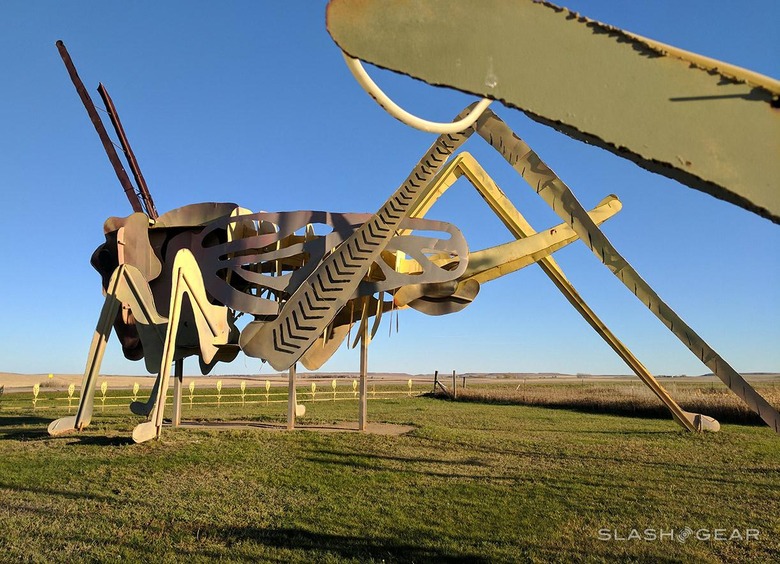 "You can expect a software update in the next few weeks that will improve the effects of this issue," said Reynolds. "We're working on some algorithms that recognize the halo/arc flare, characterize it mathematically, and then subtract it from the image. You will need to use HDR+ to see the benefits of this software."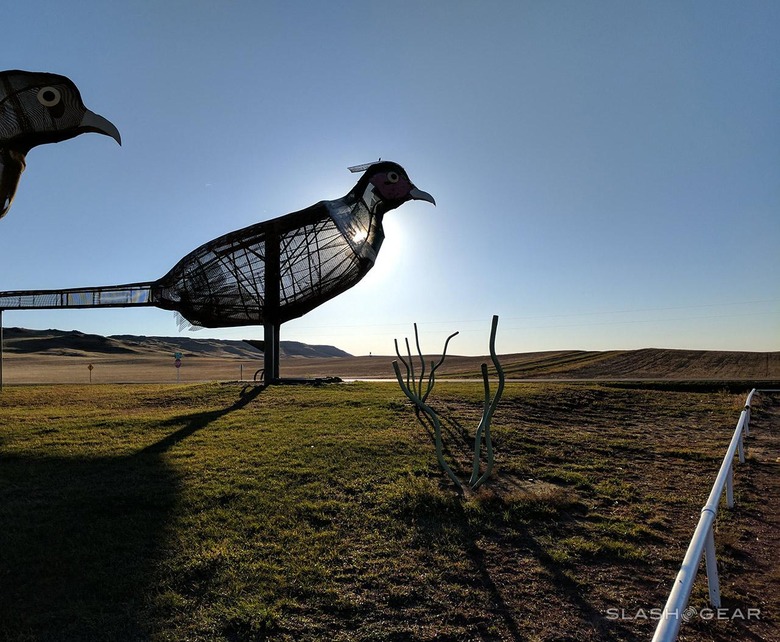 The Enchanted Highway is a stretch of road near the tiny town of Regent in Southwest North Dakota. This road is home to the world's largest scrap metal artwork, according to Guinness Book of World Records. Artist Gary Greff began this project back in 1989 and continues to expand it through the present.
You'll see a number of birds here made of scrap along the highway. Characteristic of each of the sculptures, these birds sit in a field near a small parking area for tourists. Up close and personal you'll see how each bird is made from painted metal bars and struts.
Like the rest of the sculptures, these birds are not placed behind glass. They are not protected by large barbed-wire fences. They're left out in the open for everyone to enjoy – for several reasons.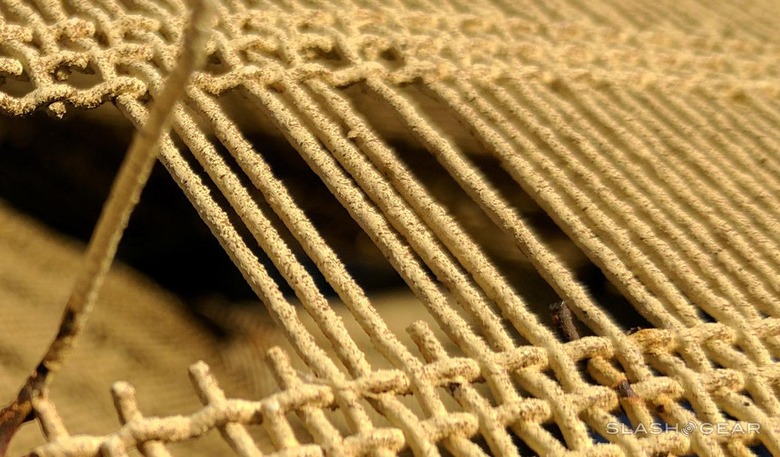 One reason these sculptures are left out in the open is that the local community wants them to be enjoyed by all – for free. Another reason is that visitors have been intelligent enough not to bust their heads open on the sculptures thus far. The final reason is that anyone with the sand to drive this great a distance to see roadside attractions isn't then going to turn around and deface them.
The flattest of the sculptures is also the most celebratory. This is Teddy Roosevelt Rides Again – and you can see the glee in his face. The Pixel XL does a lot here to capture the environment: a barren land which is also green and full of life. Tiny life that comes out at night.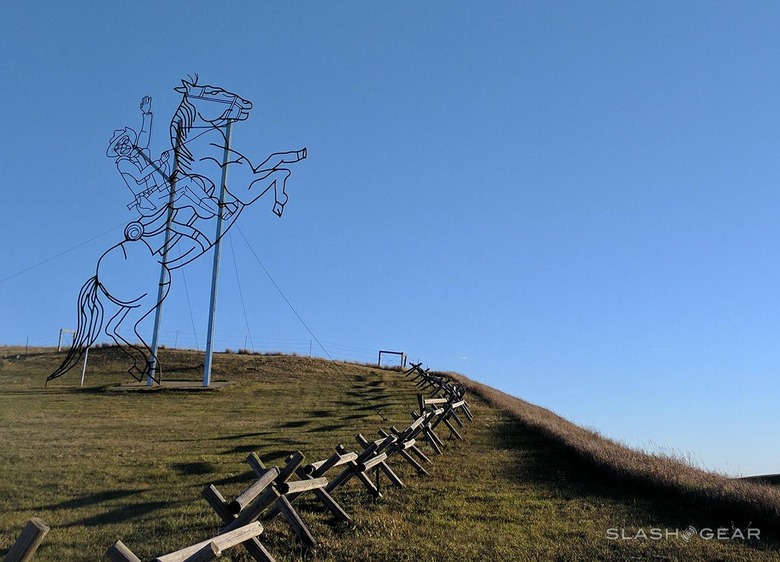 The metal family in the photos below depict a standard sort of family from the area. Most people here aren't farmers, but the farmer is just about as standardized a look as you'll find in these parts. They're eternally happy about their crops and their livestock.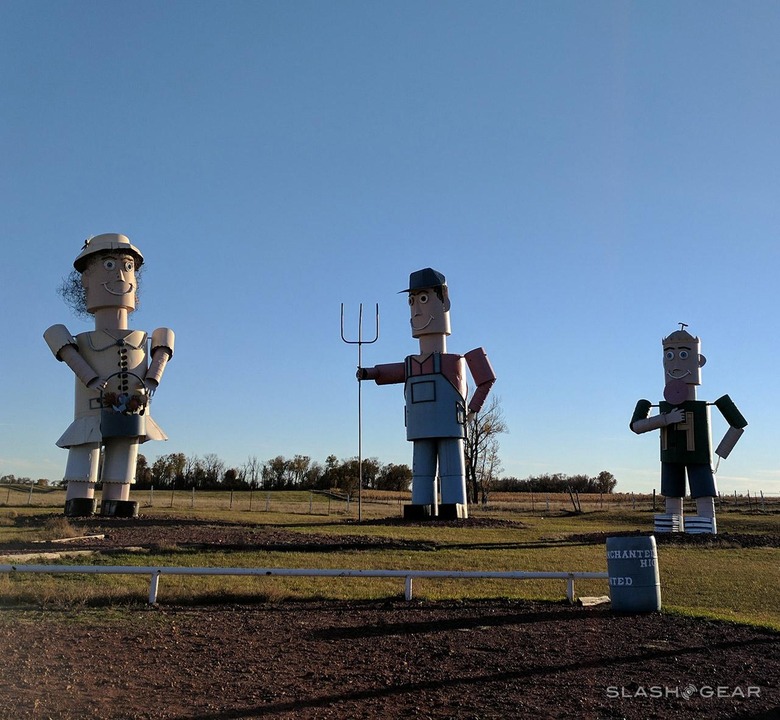 Human farmers generally don't have skin made of metal. But human farmers don't often weather the elements like these farmers have. Notice how the Pixel XL captures all the color we could ask for with its HDR+ capture mode – which is on by default.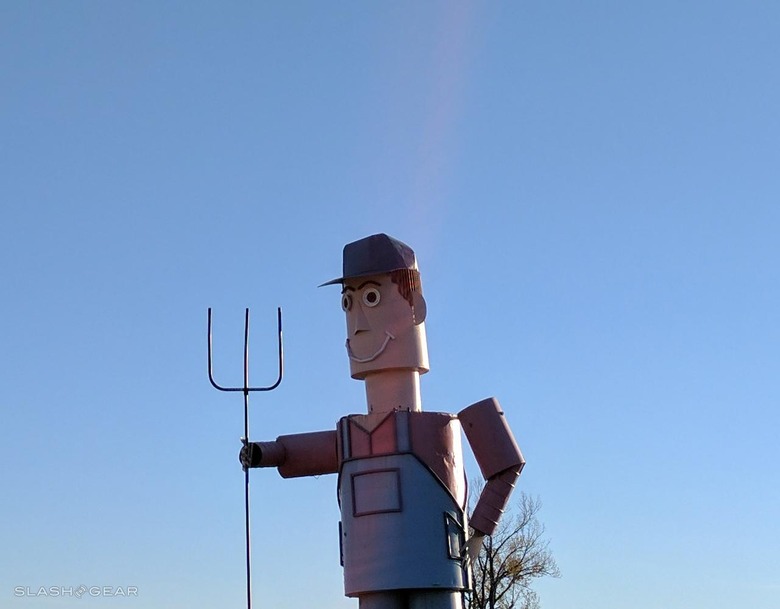 Reaching the town of Regent meant we were about to enter a place where both scrap metal sculptures and real human beings lived. We'd just watched the classic horror Children of the Corn on Netflix the night before, so apprehension came naturally. There didn't seem to be anyone here – at first.
The photo above was shot through a window of a vehicle moving 35-miles per hour. The Google Pixel XL's digital zoom was zoomed 100% of the way in, and sunlight was fading. This photo is also cropped in a big way. The results are impressive for the situation, to be sure.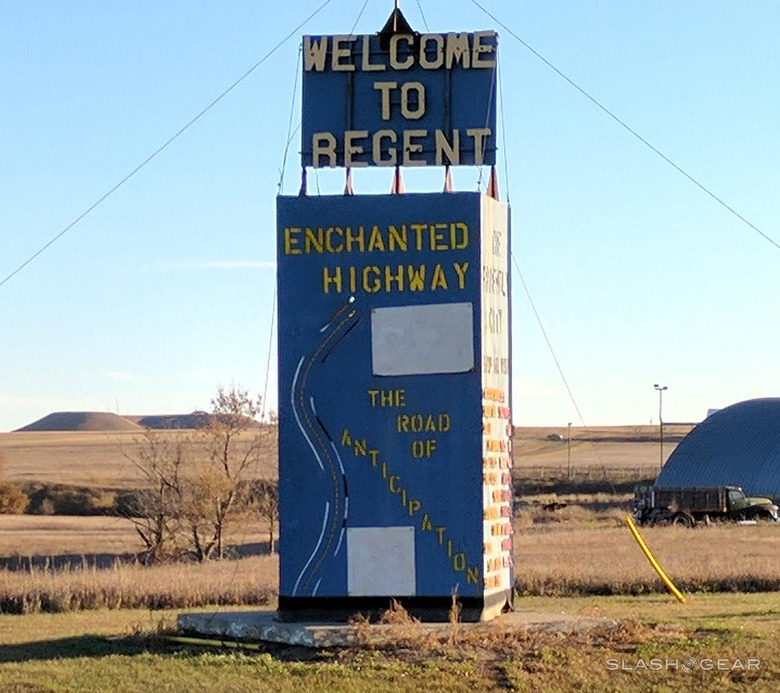 Below you'll see a series of images from the town of Regent. Do not be afraid, for this is not an abandoned town. Instead it is just a town where residents don't generally walk around on the street on a windy Autumn night like we were about to experience.
The town is built on the Enchanted Highway – its survival seems hitched on the survival of the sculptures. The sculptures on the highway are, of course, more well-known than the town. As such, it's impossible to drive through the town without realizing where you are.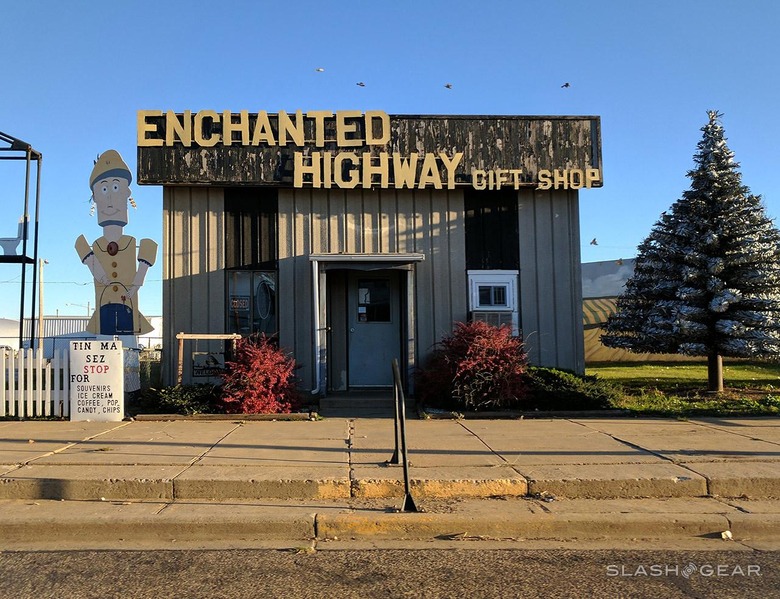 At the far end of the town of Regent, Artist Gary Greff opened a hotel. This hotel goes by the name The Enchanted Castle. It is a very magical place where dreams come true. Just so long as your dream as a local pheasant hunter is to find a place to stay for the night in the town of Regent.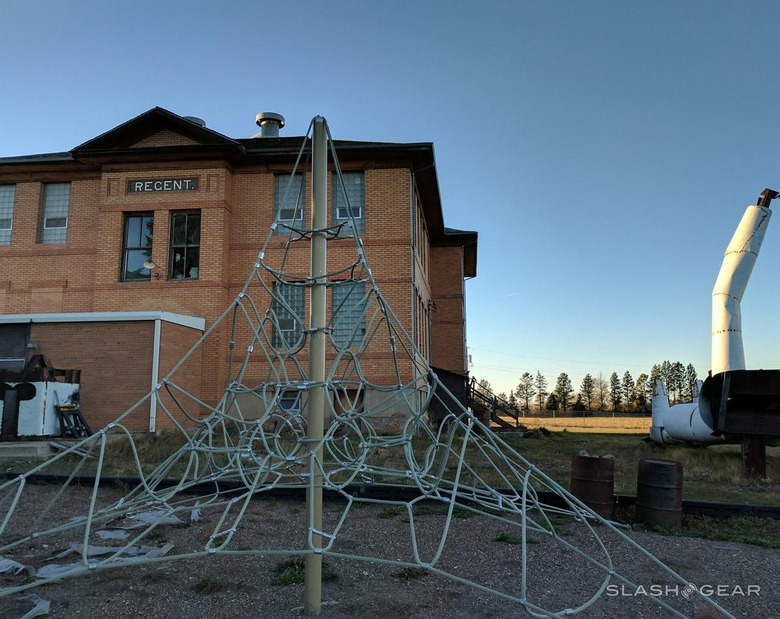 The Enchanted Castle is a set of large pieces of cement arranged into a vaguely castle-like shape. There is a drawbridge, and there are rocks. Rocks are painted to look like water, and rocks are painted to look like grass. Parking is sort of hidden behind the retaining wall to keep the magic alive.
The Enchanted Castle is attached to a run-down school which includes its own playground. There's also a basketball court nearby, but no b-ball has been played there for some time. There's also a stairway which has rotted and been victim to an overweight ghost, we must assume.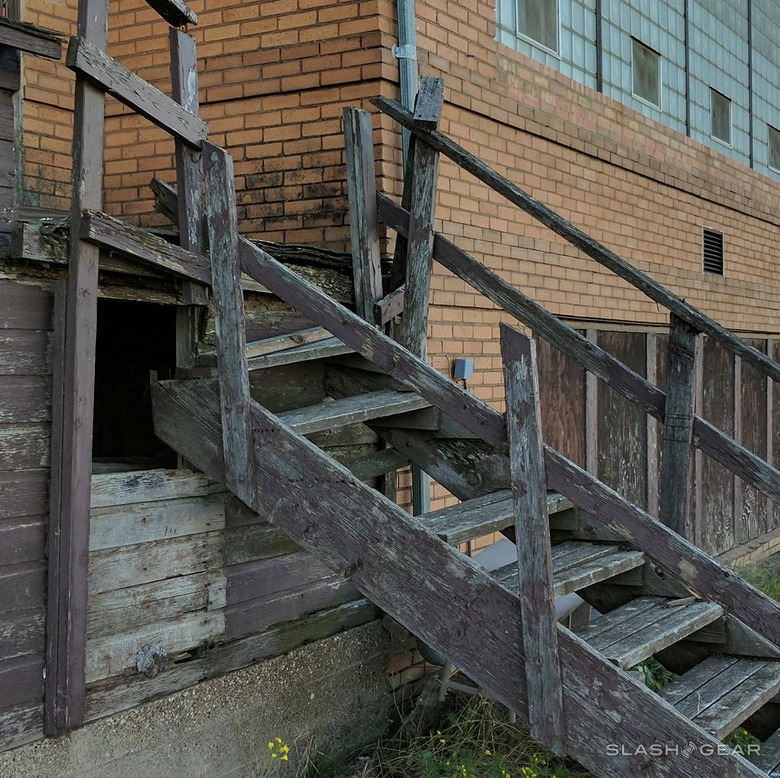 This collection of items around the school looked to be the scraps with which the next generation of sculptures will be made. It's also fairly clear that a giant version of Magneto is being made here – we've seen his helmet, anyway.
Up front of the school was a set of lockers thrown face-down unto the ground. Also there was a bathtub, and the faint sound of a dog barking. Not barking outside, chained up by a house, but inside. Inside the boarded-up school.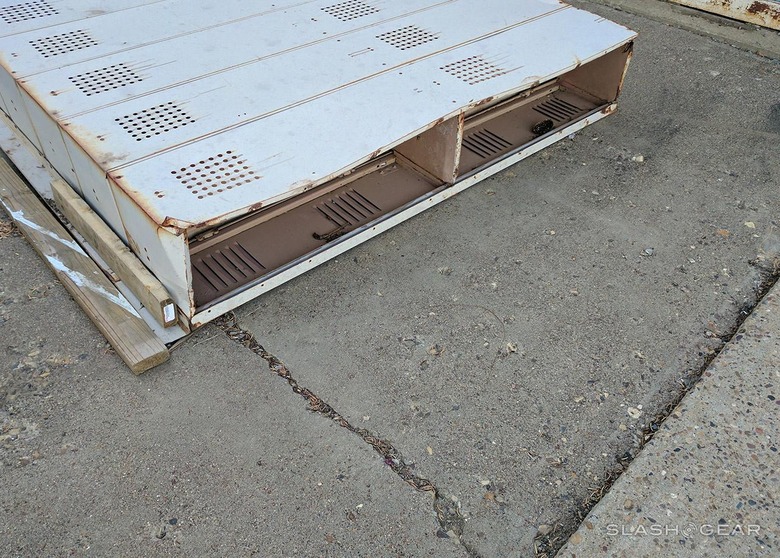 Above you'll find the tossed-down set of lockers, while below you'll see the bathtub. I regret not having recorded the sound of the ghost-dog's yelps, but when you're in the moment, sometimes you just panic. Panic and take a walk into a place you might not ever otherwise have gone.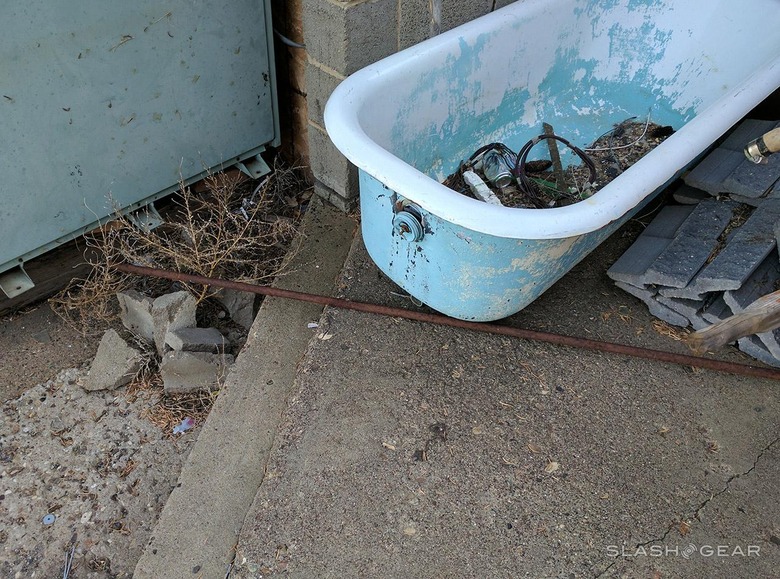 The Google Pixel XL did not fail us as the sun inched out of sight. We decided to heed the signs which suggested a new restaurant was open inside the Enchanted Castle, and entered. To one side, a front desk with a morning star affixed to the wall – to the other, a set of... armor.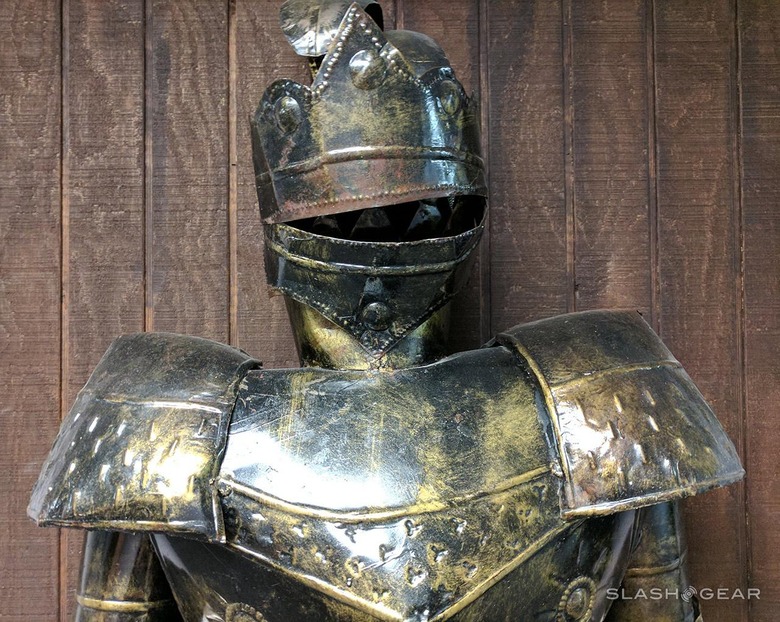 Several sets of decorative armor were placed throughout the halls, up to the point at which the hotel rooms began. It was very black and white. There were no tiny children standing near one-another asking us to play forever and ever.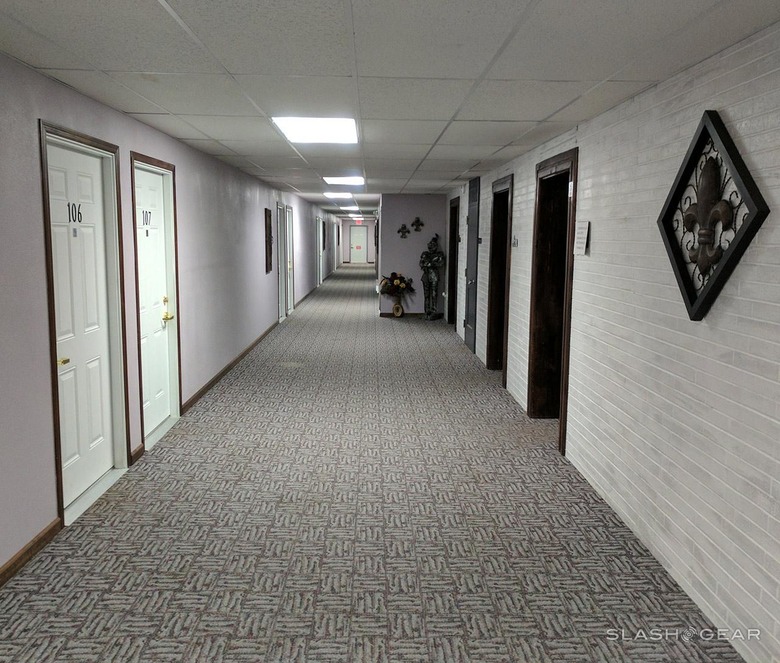 Also near the front desk was a door which opened to a fully revitalized and well-kept gymnasium. If any one element in this amalgamation of oddities felt most out of place, it was this.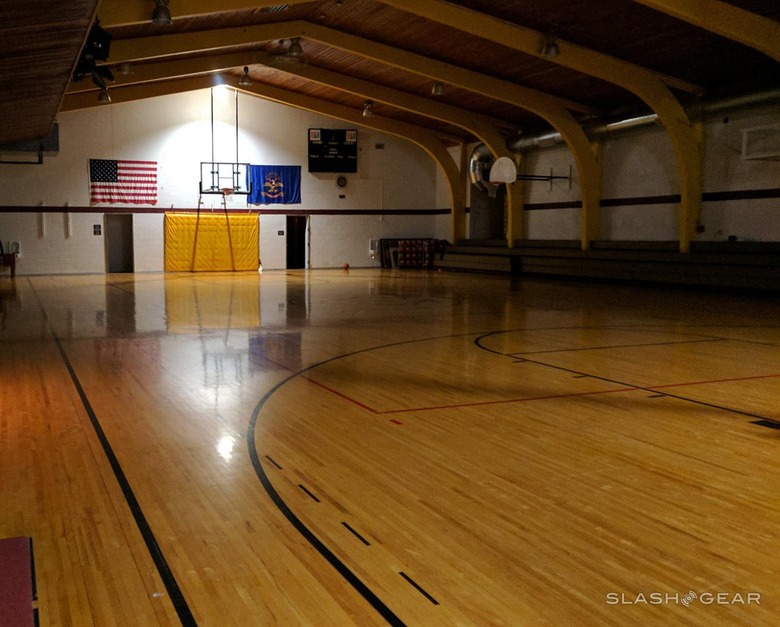 Down a separate hall was a medieval-themed sports bar, banners and all. Inside several hunters watched a football game from some neighboring state. I am 80% sure that they were not watching Quiddich.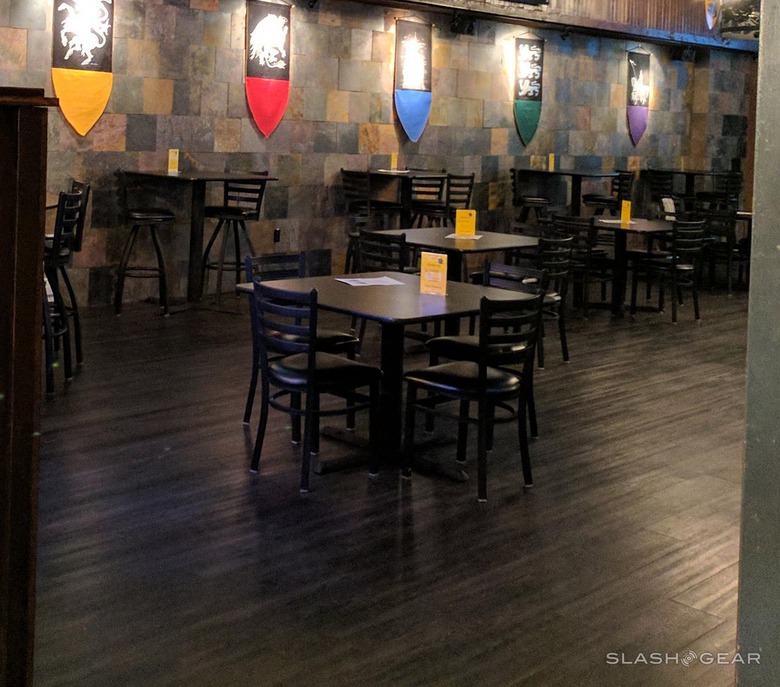 Further down the hall we came upon the restaurant Excalibur (steakhouse), complete with its own sword in the stone. The name of the restaurant is hewn into the living rock. With bright LED lights lighting it up to exemplify its beauty.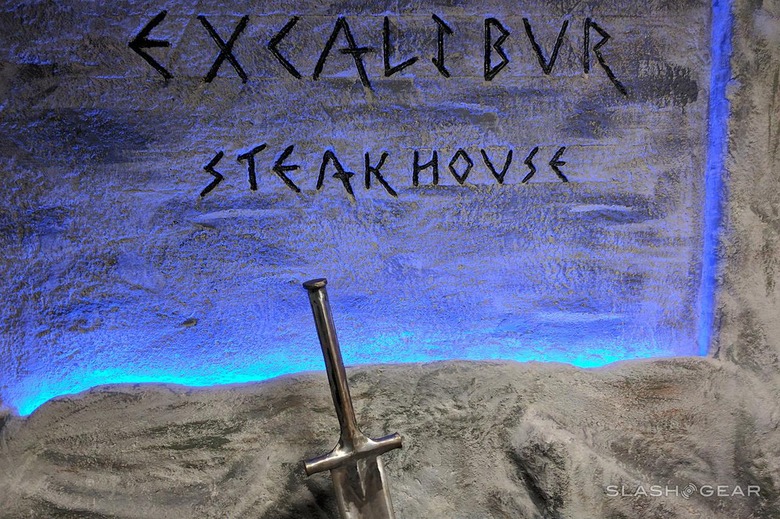 We were led inside by a very friendly and helpful wait staff to discover we'd been placed in a dining hall from a horror movie. Regardless, the food we were served – by a man with a British accent – was genuinely tasty.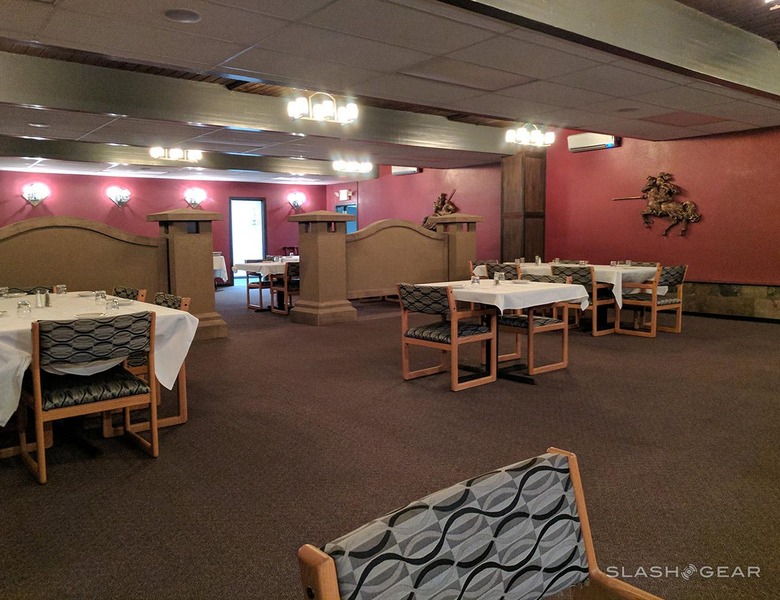 Once served, we exited the building to see the most spectacular image of all. This carved shield let us know where we were. This carved shield is lit by lights as bright and multi-colored as the restaurant's sword in stone.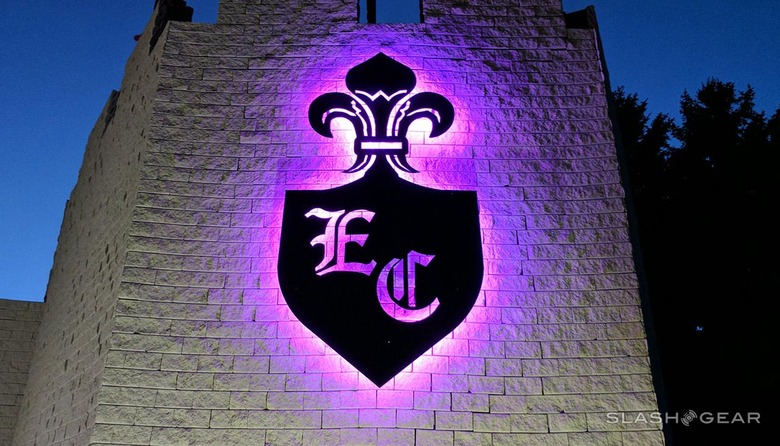 Wrap-up
The Enchanted Castle is a mix of classical aesthetics and nightmare-style rooms, fine food, and what we guess might be decent accommodations. It's all very unique, that much is certainly true. With us through it all was Google's Pixel XL, without which we might not have captured such a strange tale with such clarity.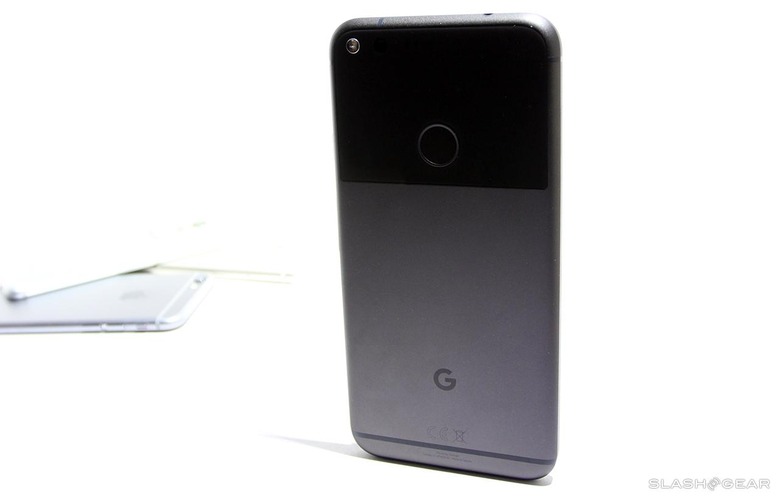 This journey was not intended, at first, to be a photo tour that I'd be bringing to SlashGear. It just turned out that way. That in mind, consider the fact that I had a wide variety of options for this trip for photos. I had options in most major modern smartphones and high-quality cameras, too. But I trusted this Pixel, and I've come away quite pleased with the results.
Have a peek at the timeline below for additional photo tours and strange journeys, including our full Pixel XL review.