i-mate Introduces Two Windows Mobile 5.0 Devices for the Americas Market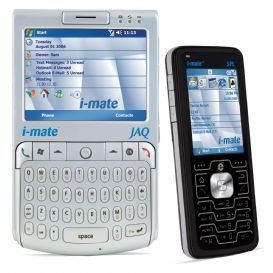 12 September, 2006 Los Angeles, USA — i-mate' , the specialist in Microsoft Windows Mobile powered devices and software applications, today announced it has launched two new devices for distribution in the U.S., Latin America and Canada. The announcement was made at CTIA Wireless IT 2006, a leading wireless industry tradeshow being held in Los Angeles Sept. 12-14.
The i-mate JAQ has everything the busy manager needs to do business on the move in a no-frills heavy-duty device. The i-mate' JAQ is a quad-band device that operates on Microsoft Windows Mobile 5.0. The device features a full QWERTY keyboard, 128 MB ROM/64MB RAM, 64k 2.8" color LCD screen, MiniSD memory card expansion, integrated antenna, Bluetooth® compatibility.
The i-mate SPL is a great-looking device that will attract buyers that want a stylish device plus the benefits of the Windows Mobile® platform. For business or pleasure, it's got what it takes for users who want the functionality and features of an affordable Windows Mobile powered device. The i-mate' SPL is a GSM/GPRS tri-band device featuring 128MB ROM/64MB RAM, 65k 2.2" color LCD screen, MiniSD memory card expansion, integrated antenna and Bluetooth® compatibility.
"We are very pleased to now be offering Windows Mobile 5.0 devices in the U.S., Latin America and Canada," said Jim Morrison, CEO of i-mate'. "Consumers and business users in all regions around the world have been turning to i-mate' for the latest and most innovative Windows Mobile 5.0 devices and solutions, and we are glad to finally be a resource to users in the Americas."
"We are pleased that i-mate is bringing its innovative device design to the North and South American market," said Chris Hill, group product manager, Microsoft Corp. "Windows Mobile is committed to a vibrant partner ecosystem that offers customers a wide variety of devices to meet their professional and personal needs. From rugged to sexy, the i-mate JAQ and i-mate SPL provide consumers with new ways to keep connected and informed while on the go."
In addition to launching the two new devices at CTIA, i-mate' also showcased i-mate' Suite (www.imatesuite.com) and club i-mate' (www.clubimate.com). i-mate' Suite is an exclusive software solution that enables users to minimize downtime, safeguard data and securely transfer information on the go. Club i-mate' provides support and content to i-mate' users, including 24/7 live multilingual support, software patches, device tutorials, current ROM upgrades, a free Hosted Exchange email account and a wide variety of content including games, ring-tones and productivity software. i-mate' recently announced that club i-mate' had reached 500,000 members, making it the largest online Windows Mobile user community.