I Ching Oracle Watch concept wakes you up, guides your life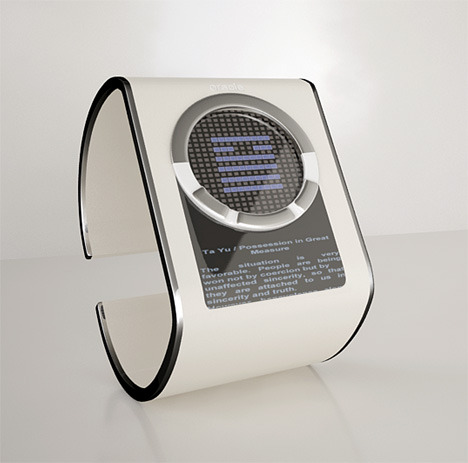 I'm no fortune teller, but I think this Oracle Watch concept would find plenty of buyers should it ever reach the market.  Designed by Andy Kurovets, it not only tells you the time but, using the divination principle of the I Ching, the order of chance events.
The I Ching is a classic Chinese text which, using 64 different symbols (or "hexagrams"; here displayed in the circular screen on the watch) representing a description of a state or process.  Examples of interpretations include "temporary restraint" (e.g. "I shouldn't buy that new MacBook, I can't really afford it"), "stagnation" (e.g. "my current MacBook is rubbish, I can't do a damn thing with it") and "the joyous" (e.g. "Hello, I'd like to buy a new MacBook please – could you spread the cost across these six different credit cards?").
It's not very often that a gadget concept allows me to quote from iconic Britpop band Pulp, so I'm going to jump at the opportunity.  Here, with a problem that would never occur should Kurovets' concept come to market, from the band's song Glory Days:
I used to do the I Ching,

But then I had to feed the meter,

Now I can't see into the future,

But at least I can use the heater.
[via electro^plankton]