Hyundai shows off Vaccar Tucson Sport Concept bound for SEMA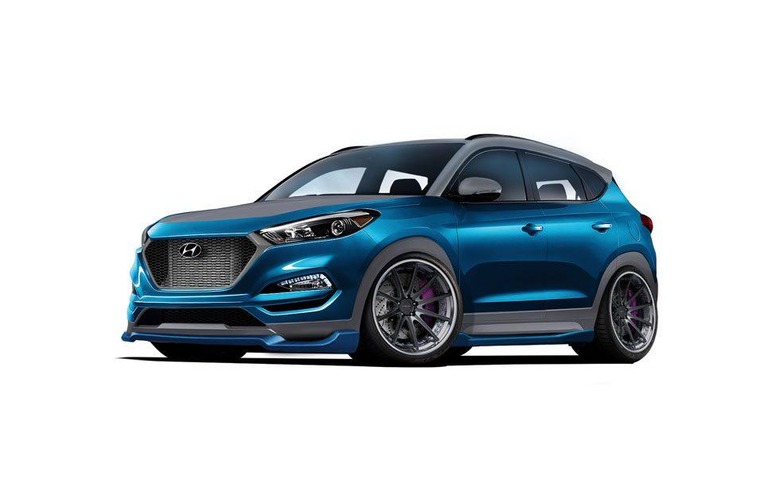 Every year Hyundai goes all out for SEMA and brings lots of concept cars to show off. The first concept for this year's SEMA show that Hyundai is showing off is the Vaccar Tucson Sport Concept and the SUV is heavily modified for SEMA duty. The engine has a Boostec turbocharger and R50 blow off valve and lots of upgrades for cooling and intake. The exhaust is also custom.
The chassis of the SUV gets forged wheels in 20-inch diameter from Concept One and the wheels are shod with Continental ExtremeContact Sport tires. The brakes are updated and the Tucson is lowered with Vaccar-Gecko G-Street coilovers.
The exterior of the vehicle is heavily modified as well with special BASF R-M Blue metallic color change paint with silver partial-tone 2. That blue hue covers a custom body kit with a revised front lip, side skirts, rear diffuser, and mesh front grille.
The exterior of the car also has RGB LEDs with a WiFi control for changing the lights remotely. Rounding out the custom touches is a heavily revised interior starting with Katzkin Ice Gray Leather, Fog Suedezkin, and blue stitching.
The interior also gets Autometer Airdrive WiFi Boost, Oil, Wideband AF gauges in a triple gauge pod. A Vaccar Android-powered 9-inch multimedia head unit starts the audio system. That system is rounded out with headrest LCDs, DVD unit, Picasso 12-inch powered sub enclosure, component speakers, and amps.
SOURCE: Hyundai